Fancy Silver I.D. Pin – Beautifully Engraved – Josiah M. Morrill, 13th Mass. Infantry – Captured at Gettysburg on July 1st, 1863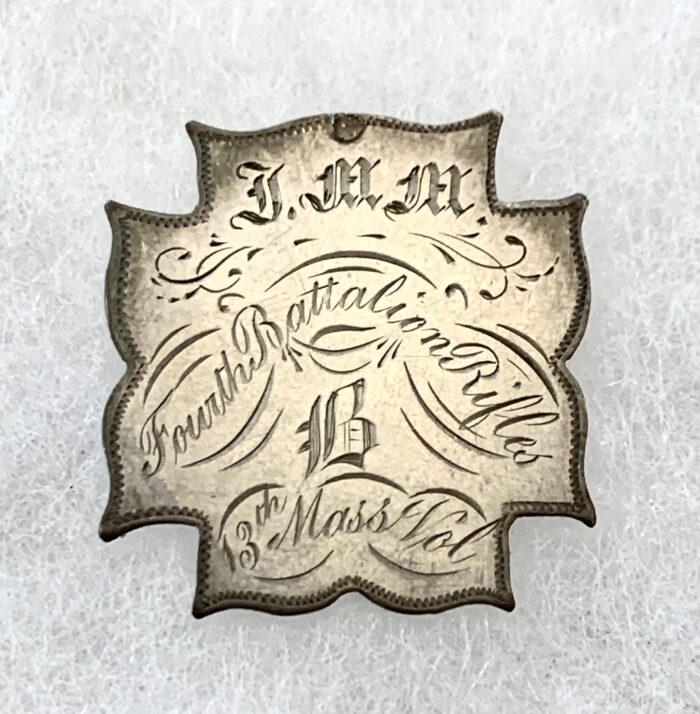 If you like great silver I.D. pins, here is a beauty. Because it is silver, you could not tell it was excavated, except that the T-bar pin is no longer there. It was found 32 years ago in Stafford County, Virginia. There are other 13th Mass. I.D. pins in the same "elaborate" scalloped shape. The pin is engraved as follows:
J. M. M.
Fourth Battalion Rifles
B.
13th Mass. Vols.
Josiah M. Morrill, a resident of Boston, enlisted on April 17th, 1861 and was mustered in on July 16th. The 13th Mass. was a hard-hit regiment with heavy loss at 2nd Bull Run, Antietam and Gettysburg. Morrill was captured at 2nd Bull Run and exchanged. He wasn't so lucky at Gettysburg as he was captured and sent to Belle Island Prison in Richmond, Va. After his being paroled in 1864, he reenlisted in Company B of the 8th Regiment Veteran Volunteers (Hancock's).

A truly beautiful I.D. pin.

#A611 – Price $3,495