His Name is on the Pennsylvania Monument at Gettysburg – I.D. Disc from the 110th Pa. Vol. Infantry – Lost half of the Regiment at Chancellorsville, then at Gettysburg, IN THE WHEATFIELD, Participated in Detrobriand's Brigade, Birney's Division, 3rd Corps – Fought Alongside the 5th Michigan & these Two Regiments held their Position against the Enemy's Onslaught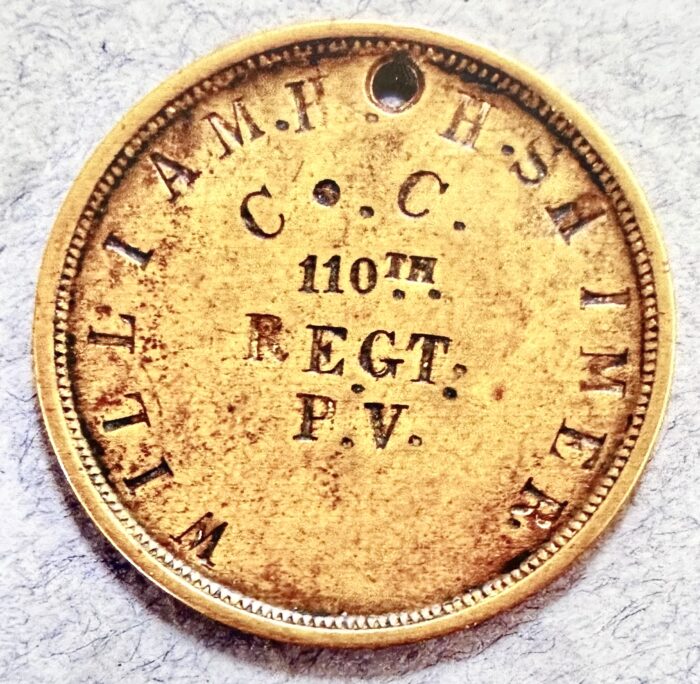 This non-excavated ID disc or "dog tag" belonged to William H. H. Shimer, a resident of Blair, Pa., who enlisted in October 1861 as a Sergeant in Company C.  Shimer fought the entire war with the 110th Pa. and was mustered out on June 28th, 1865.

The 110th Pa. was a hard-fought unit and played a significant role at Gettysburg having a total casualty loss of 53. The ID is brass, having the words "AGAINST REBELLION,1861" and a shield with "UNION" in the center. It has a pleasing uncleaned patina and shows nice wear… that it was actually worn for many years during the war! Stamped on the reverse:
WILLIAM H. H. SHIMER
CO C
110TH
REGT
P. V.
One of our nicest Gettysburg I.D. discs.

#A631 PA – Price $2,695