Relic from the Famous U.S.S. Kearsarge which Sank the Confederate Raider Alabama – Came Out of a Museum, with Great Original Tag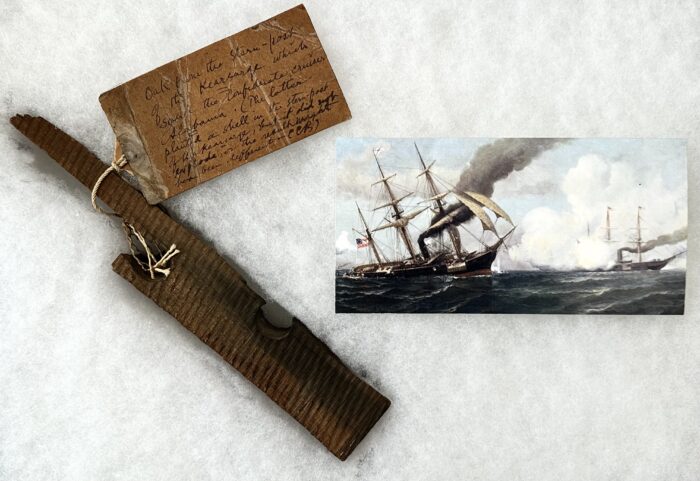 This relic is a 9 x 1 1/2 inch piece of oak from the Kearsarge. The tag measures 4 1/2 x 2 1/2 inches and is written in nice dark old brown ink. The tag was encapsulated no-doubt by the museum. It reads:
"Oak from the Stern-Post of the Kearsarge which sank the Confederate cruiser Alabama. (The latter planted a shell in the Stern-Post of the Kearsarge, but it did not explode or the result might have been different — C.C.B.)"
On the reverse of the tag is the museum's catalog number along with: "C. C. Buel, 13o East 67th St. New York City". Clarence Clough Buel was an editor and author on the staff of the Century Magazine. After writing many articles on the Civil War, they were expanded and compiled into the famous book, "Battles and Leaders of the Civil War". On the Internet we even found a document that Buel had signed… and it matched the one on our ink I.D. tag.
#A635 – Price $950