The 1862-64 Battle Letters of Col. Clark Edwards of the 5th Maine Infantry… The Finest, Most Descriptive Writer that We Have Encountered
Over 30 years ago, we attended an auction up in Maine where the letters of Clark Edwards were being sold. While there were many "camp letters", well written and informative, we were of course most interested in his highly descriptive battle letters. To this date, we have not found any other Colonel's letters that come close. Since that auction, we have sold off the lesser letters and are now offering the ones kept in our personal collection. Offered is a small group of his amazing letters. Now a little bit about Col. Edwards:
Clark S. Edwards was 37 years old when the news of the Confederate attack on Fort Sumter reached the small town of Bethel, Maine. He was high on a ladder shingling his roof and he immediately climbed down, obtained permission from the appropriate authorities to form a company of volunteers, and set out to gather recruits from Bethel and the surrounding towns.
This group of men became Company I, 5th Maine Volunteer Infantry, with Edwards commissioned as their captain on June 24, 1861. He rose through the ranks and was appointed colonel of the regiment, on January 8, 1863, commanding the 5th Maine Infantry from that date forward.
He was promoted to brevet brigadier general, on March 13, 1865, for his gallant and meritorious Civil War service record.
The 5th Regiment Maine Volunteer Infantry was one of the first Maine regiments to be mustered into the Union Army. They fought in many battles from 1st Bull Run to Petersburg. DURING THE BATTLE OF RAPPAHANNOCK STATION, [EDWARDS MOST FAMOUS BATTLE] THE REGIMENT IS CREDITED WITH CAPTURING 4 CONFEDERATE BATTLE FLAGS AND 1,200 PRISONERS.
Known as one of Maine's best fighting regiments, it captured more prisoners than the entire number of men who served in the regiment, AND THREE TIMES THE NUMBER OF BATTLE FLAGS THAN ANY OTHER MAINE REGIMENT.
After three long years of hard-fought service only 193 men were mustered out of the regiment when their term of service expired.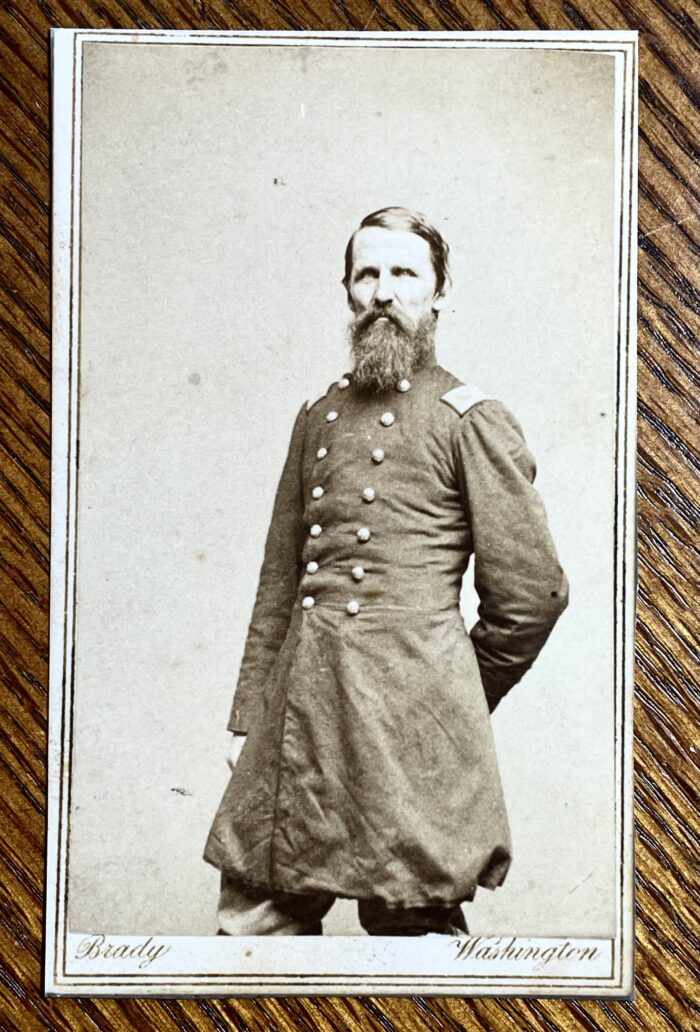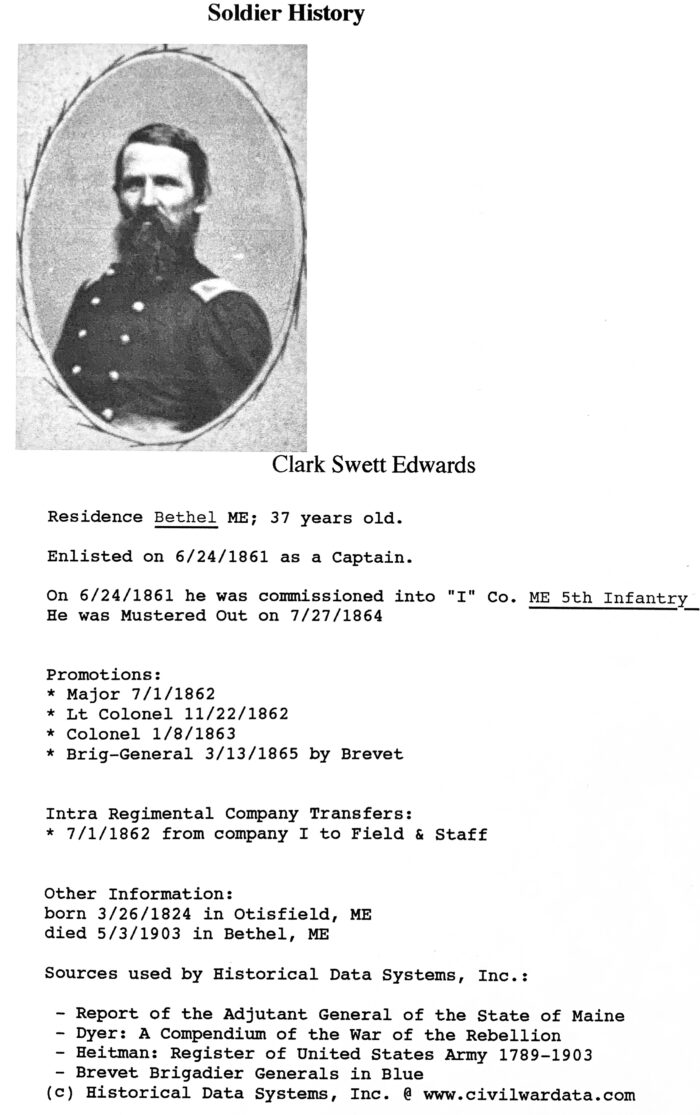 MAY 8TH, 1862 – 12 PAGES IN INK ON THE BATTLE OF WEST POINT, VIRGINIA
Brick Mill Pt., Va. May 8th, 1862
My Dear Wife, I thought I would write you once more from this place before we leave for Dixy. I gave you a hurried account of the fight of yesterday in a letter of today. It is now almost supper time. Jimmy is about going to getting it so I have a good heart to write. I WROTE YOU THAT WE LOST ABOUT ONE HUNDRED IN KILLED AND WOUNDED, BUT I HAVE SINCE LEARNED THAT OUR LOSS WAS MUCH GREATER.
I think it will reach in hundred & fifty and perhaps two hundred, but I hope not. I gave you a true account of our loss in the Maine 5th Regt. PARKER OF COMP. K HAS NOT AS YET HAD HIS LEG CUT OFF, BUT I THINK IT WILL BE TONIGHT.
I COULD GIVE YOU SOME HEART RENDERING ACCOUNT OF THE SUFFERING OF SOME OF OUR MEN. THEY BROUGHT IN SOME THIS AFTERNOON THAT WAS WOUNDED YESTERDAY MORNING BUT WAS SO WEAK THAT THEY CRIES COULD NOT BE HEARD.
THE WOODS WE FOUGHT IN IS SOME TWO MILES IN CIRCUMFERENCE AND VERY THICK AND UNEVEN, SO IT WAS HARD FINDING ALL OF THE KILLED & WOUNDED.
We drove the Devils back from their position in the morning, and today not one can be found.
I will give you a little account of an occurrence that happened under my own observation. As we were advancing on the Enemy alongside of a road, I noticed two officers peep on to the enemy line from our Battery. I thought at the time they were running into danger. I should judge they went some ten or fifteen rods once they got a fire from the Rebels. In a minute after one come back past where I stood, Horse at a double quick, and the rider bareheaded, they past like lightening. A minute or so the other horse come without its rider. I told my men he was shot or taken. But about two minute I judge from the time the last horse past. I saw the rider a running another way. In a few moments more he joined his Genl. and I heard a shout of joy from them. He was one of Genl. Newton staff. His name was Montgomery. HE RUN INTO THEIR SNARE, AND THEY FIRED AND HIS HORSE MADE A PLUNGE AND THREW ITS RIDER WHICH INJURED HIM SOME. THEY TOOK HIM FROM UNDER HIS HORSE AND SUPPOSED HE WAS DEAD AS HE PLAYED IT.
BUT THEY SOON FOUND OUT AS THEY CALL HIM A DAMN LIVE YANKEE, AS THEY BEGAN TO TICKLE HIM AND HE HAD TO LAUGH. THEY THEN BEGAN TO MARCH HIM OFF.
HAD NOT GONE MORE THAN A ROD OR TWO BEFORE OUR BATTERY OPENED ON THEM WITH STEEL AND SHOT. THE NEXT MOMENT THE SHELL COME FROM ONE OF THE GUN BOATS WHICH WERE MORE THAN A MILE OFF. THEY STRUCK IN A ROD OR TWO OF THE DEVILS AS THERE WAS SOME FIFTY OF THEM THAT HAD HIM. IT KILLED QUITE A NUMBER OF THEM. THE FIRST SHELL SET PANIC AMONG THEM. THE SECOND ONE ADDED TO IT AND THE THIRD ONE THEY LEFT IN DOUBLE QUICK WITHOUT THEIR PRIZE FOR THEY RUN ONE WAY AND HE THE OTHER. IT WAS ALL DONE IN LESS THAN TWO MINUTES.
The horse after plunging got on his feet and come back, but died in a few minutes. That all took place within ten rods of where we were stationed. We were in a thick heavy wood, so thick at some places you could not see two rods ahead, and the right of my company were guided by the road, or I kept just out of the road and our line run back from the road the length of the Battalion which I judge to have been about forty rods long.
There were another little incident I will write. As we were moving along in front of the enemy fire in the woods, they began giving away. At that time an old grey hooded officer of our army come up to see what was going on. He was, I judge, some five rods ahead of us when ONE OF THEIR BULLETS WHIZZED PAST HIS EAR AND TOOK OUT A SMALL PIECE ABOUT HALF THE SIZE OF A CENT. HE COME BACK ON HIS HORSE PAST WHERE WE WERE AND ASKED ME WHAT WAS THE MATTER WITH HIS HEAD OR EAR AS HE SAID IT FELT ODD. I presume it stunned him or grazed him a little. I could but smile to see how the old fellow acted. His ear did not bleed at the time, and I do not know as it has since as he left soon for his Regt. I had quite a curiosity to learn his name but have not as yet.
I will give you a little account of a boy in Co. K. McFall Co. The company were deployed as skirmishers in front of the whole Regt. I should judge they were some five or six rods ahead. They crept on all fours as the saying is till they see one of the Devils and then pop him off, but the Devils charged on them and drove them back to our line. One little fellow by the name of Harris come by me by being led by another of the company. He at the time supposed he was wounded in the leg, but on examination found the ball went between his legs. IT WENT THROUGH THE SKIRT OF HIS COAT, BEHIND THERE INTO HIS PANT AND OUT AGAIN IN FRONT, ANOTHER THROUGH HIS COAT AGAIN MAKING THE HOLES IN THE COAT TO IN THE PANTS. THE BULLET DID NOT FETCH BLOOD BUT BRUISED HIS LEG SOME. HE HAD TWO LETTERS AND A GLASS IN HIS COAT POCKET WHICH THE BALL WENT THROUGH. HE SAID HE DID NOT CARE ANYTHING ABOUT THE CLOTHES & LETTERS, BUT THE GLASS HE WANTED TO SAVE. AS SOON AS HE FOUND WASN'T HURT, HE WENT BACK INTO THE FIGHT DOUBLE QUICK.
I do not think he is more than seventeen or eighteen. He is a boy that has got the fight in him. I could give you quite a number of such incidents but I have not time nor space. I hardly know what I wrote you in my last, so I will tell you a little of our Regt.
The noble Band of our Regt. done honor to itself. The field of Battle was about a mile from our camp, and they offered their services as hospital waiters. While other hospital waiters were gambling and drinking at camp out of danger, they went into the woods in rear of our Regt. and carried off our wounded and dying, also of other Regt. and some from the Regt.
I first spoke of as their bands & hospital waiters were drinking & gambling. YOU MAY THINK I TELL HARD STORIES WHEN I TELL YOU THAT SOME SUCH SQUADS WERE IN SUCH PLIGHT AND STILL CONTINUED TO GO ON IN SUCH WICKEDNESS FOR HOURS AFTER THE DEAD & WOUNDED WERE CARRIED INTO THEIR CAMPS, BUT SUCH IS WAR.
As we returned to our camp that night with our whole Regt. in the exception of the poor wounded, we wended our way IN FRONT OF THE GENL. H. QUARTERS. I SAW A SMILE ON THE GENL.'S FACE AS WE PASSED HIM. OUR BOYS COME IN AS COOL AS THEY WOULD IF THEY HAD BEEN ON A DRILL. OUR LINE WERE PERFECT. OUR RANKS WERE FULL WITH THE EXCEPTION OF THE FIVE VACANT PLACES OF THOSE THAT WERE WOUNDED.
I could but think of the Bull Run fight and the different appearance of the men. At that time we were beat before we went into Battle. At this time we went into it cool as a man goes to his work. We went into it at the cool of the day with light equipage. At that time the boys were some six miles in the heat of a July day under a Va. sun. But the result of the two days were as great as the circumstances were that attended them.
WE DROVE THE ENEMY FROM THE WOODS AND ROUTED THEM COMPLETELY SO WE HAVE NOT SEEN HIM SINCE. WHEN I CAME TO MY CAMP I FOUND ONE OF MY COMPANY PUTTING MY THINGS INTO MY TENT AS THEY HAD ALL BEEN TAKEN OUT TO GIVE ROOM FOR THE WOUNDED AND DEAD, BUT THANKS BE TO OUR HEAVENLY FATHER, WE DID NOT NEED IT AS MY MEN COME OUT ALL SAFE & SOUND.
Capt. Brown's [George E. Brown of Company H] tent was used for the same purpose. ONE OF THE OFFICERS AS HE CAME TO THE TENT THAT NIGHT SAW AS HE SUSPECTED SOME OF THE OTHER OFFICERS ASLEEP. HE WENT ALONG AND GAVE HIM A SHAKE AND TRIED TO AWAKE HIM UP. BUT THE POOR FELLOW WAS SLEEPING HIS LAST SLEEP AS HIS SPIRIT HAD GONE TO THE GOD WHO GAVE IT. THE OTHER ONE HAS SINCE DIED, BUT SUCH IS THE FORTUNE OF WAR.
Our boys had nothing to eat through the day as we had no time to get it after the play commenced so they had a good appetite for supper. You would hardly suspect it but THE SIGHT OF THE DEAD & DYING DOES NOT AFFECT A SOLDIER BUT LITTLE AND WELL IT DOES NOT. IF IT DID THE RESULT WOULD BE BAD.
FRIDAY MORNING I HAVE JUST BEEN OUT TO WHERE THEY ARE BURYING THE DEAD. OF THE DIFFERENT REGT. I SAW A PIT DUG OUT I SHOULD JUDGE ABOUT SEVEN FEET BY TWELVE FEET AND ABOUT THREE FEET DEEP. IT WAS TO PUT IN THE DEAD OF THE THIRTY-FIRST N. YORK REGT. THEY ARE LAID OUT IN THEIR OWN CLOTHES OR THE ONE THEY DIED IN AND THEIR BLANKET ARE USED FOR WINDING SHEET. THEY ARE THEN CARRIED TO THEIR LAST RESTING PLACE ON A STRETCHER SO CALLED AND DEPOSITED IN THE PLACE I HAVE DESCRIBED.
I saw poor Morse [Alpheus Morse, Company G] let down into his last resting place and heard our old Chaplain make a prayer, but I was the only officer present at the time. There was but part of his company at the grave at the time.
Saturday morning eleven o'clock I have just come in off picket. Went out yesterday afternoon with the company. After I left off writing yesterday, we struck tent and moved about two miles to this place on the P. Monkey River. It is called Eltham. It is a beautiful place on the bend of the river and gun boats are here now ready for a fight but no enemy.
After laying for a few minutes and resting, we were ordered to go on picket with about three thousand troops. so you see our picket is not so very small. Our Regt. took the lead and Company I was on the outpost, so you see we are thought as much of as ever. Company I stand as well as any company in the Army. You can judge something about it as we were put on the outpost on the picket. I think the boys will give a good account of the Capt.
I am sent in all of the most important places of danger for the last two days or since the fight. This morning I took a tramp out two miles with but three of my best men. One of Sue Sawyer's brother was one of them. He is a fine fellow and full of fight. We went out at an early hour just after the sun arose. I called at a house and got some milk & eggs and engaged some duck for myself and Col. Got back into our lines all safe (9 o'clock).
I just telegraphed to the Col. to let me go out on the main road, and he telegraphed that I could go with four men (eleven o'clock). I have just got back to my camp safe. I made a good trip, got eggs, ducks, geese, books. and find a little of most everything and also have found the different roads as ordered. Two o'clock got into camp all right, but very tired.
Sunday morning May 11th 1862 I thought I would close this letter and send tomorrow as the mail will go through. I hear we have just moved again about three miles to this place, the one I come to yesterday. I led the Brigade. My Company was the advance guard. But the boys are good for it.
Five o'clock p.m. I am now a writing in my tent. I am sitting flat on the ground but feel well enough to write anywhere.
LITTLE MAC AS THE BOYS CALL HIM HAS JUST PASSED THROUGH OUR CAMPS. THOUSANDS OF VOICES ARE RINGING OR SHOUTING. THE AIR IS FULL OF HATS. SHOUT AFTER SHOUT GO UP.
HE JUST ANNOUNCED THAT NORFOLK WAS TAKEN AND THE MERRIMAC WAS BLOWN UP. IT IS NOW ALL EXCITEMENT IN CAMP. THE BOYS ARE SHOUTING AS I NEVER HEARD THEM BEFORE. THEY ACT LIKE CRAZY PEOPLE, but enough of the war.
I will now write something else. I received yours of May 4th yesterday after I got to camp. I was extremely happy to hear from you after waiting a week. I am glad to hear the snow is off and warm weather has got along once more in Maine. You say you hope your letters would find me all quiet and not in the conflict of battle. Well, it did find me so, but it found me also jagged out some and the little the worse for wear. But today I am feeling well. You say you are expecting to hear of a great battle at Yorktown, but at the time you were writing that letter they were leaving for Williamsburg and West Pt. as they were twelve or fifteen thousand to stop our landing but they could not prevent it.
You say you wish you could be with me in some of my strolls, but I think for the last three or four days you would enjoy yourself better somewhere else.
You write the children are to commence going to school tomorrow. I am glad to hear it. I hope they will do well. You write me Kate has gone to L. I hope she will do well and take care of no one. YOU SAY THE DR. SAY MY LETTERS WOULD BE INTERESTING TO PUBLISH. DO NOT LET HIM DO IT AS THEY ARE WRITTEN ON THE MOVE AND AT ALL TIME AND THERE IS A GOOD PART OF THEM THAT WOULD NEED TO BE WROTE OVER AS THE SPELLING IS VERY BAD AS I HAVE TAKEN NO PAINS WITH THEM. BUT IT HE FIND ANY EXTRACTS IN THIS WORTH SENDING TO THE PRESS, HE MAY DO IT.
I am in hopes you have got the money I alloted you before this as I know you need it. I wrote to you. I sent seventy dollars by express to you. I wrote a long letter and put seventy dollars in an envelope and gave it to the Adjt. to send by the Express at Chreesman's Creek, but they would not take at the time, so he trot it back to me and I now have it in my pocket. But shall send it if I have a chance.
Six o'clock p.m. I have just eat supper. We had goose, coffee, hard bread, butter. So we are faring pretty well of late. I had baked duck for breakfast, and finally for the past two days we have got along well.
Jimmy was with me the other day in the fight. He done well and so did all the rest. I SHALL SAY NOTHING OF MYSELF BUT LET OTHERS DO THAT. BUT I THINK THE BOYS HAVE FOUND OUT WHO IS COOL AND WHO CAN LEAD THEM ON BUT ENOUGH OF THAT.
Lee is still with the commissary, was the day of the fight but he is a good soldier and a good man. Tell his wife I shall go to see her after I get home. I gave you about the true account of the number killed and wounded in the fight. I hear they found a few more dead on Friday after we left.
THE REBELS' LOSS WAS MORE THAN OURS WITH ALL THE ADVANTAGE OF THE BATTLE IN THEIR FAVOR. This letter you see is enclosed in a secesh envelope. It is one I found in a house when the Rebels had left. I will send you some Richmond papers and a bag of stuff if I get a chance as I have it on hand. And should be glad to get rid of it, but not in the same way I did the one I had last summer.
The boys are well, all of them with me. One returned from the hospital today. He has been at Washington of late. His name is Estes. He tells me Charley Dunham is quite smart or as well as ever. David is well. I appointed him a Sergt. a few days ago. He is a fine soldier, does his duty well. I hear Wornell done well at the late fight, showed good pluck. Dan Sternes is well and done well. I do not think he thought much of being scared as he did not show it. And finally all the boys done well. I will close this in the morning so good night.
Monday morning All well this morning and also all is quiet in the Army of the Potomac. I cannot tell you of any news of this day, but perhaps before night we shall have to write. So good bye. Clark
A truly amazing letter in fine condition, minor staining.

Estimate $2,500+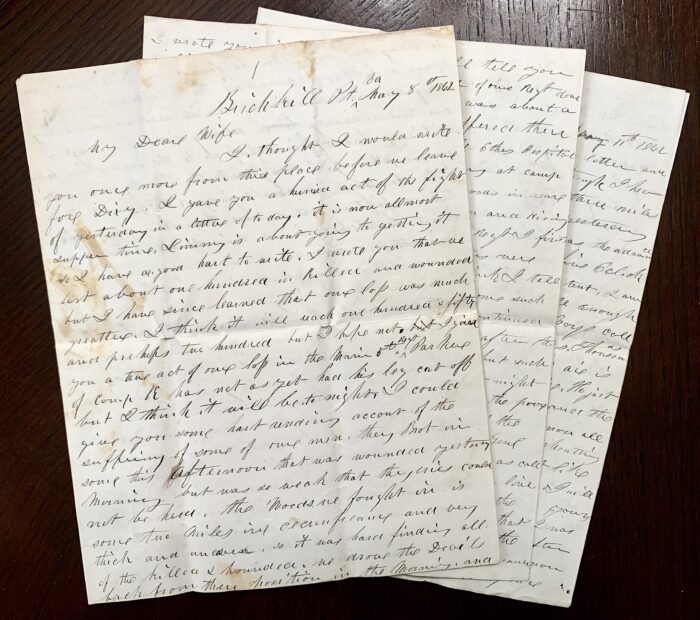 Please click image for photos of the May 8th, 1862 letter.


JULY 9TH, 1862 – THE BATTLE OF GAINES MILL – 4 LEGAL SIZE PAGES IN INK. STAMPLESS ENVELOPE INCLUDED.
Head Quarters 5th Me. Regt. Near Harrison Landing July 9th, 1862.
My Dear Wife, It is with pleasure I address you this time. I have been expecting a letter from you for a day or two, but you are awaiting to hear the result before you write.
I would say to you I am well and hearty as ever. I think I shrunk up a little in the last week's fight as IT WAS FIGHT ALL DAY & MARCH ALL NIGHT FOR A WEEK AND NOTHING TO EAT. But we are now over that safe. But many of our Regt. are left behind.
I OFTEN THINK OF WHAT MAJ. FRYE TOLD US THE DAY OUR COMPANY WAS FORMED AT BETHEL THAT MANY OF US WOULD LAY OUR BONES IN SOUTHERN SOIL.
OUR LITTLE REGT. WENT INTO THE FIGHT WITH LESS THAN FOUR HUNDRED MEN, AND OUR LOSS WAS ABOUT (70) SEVENTY OR ONE TO FIVE WAS KILLED OR WOUNDED.
And in fact, there was one out of every three killed or wounded that actually had a hand in the fight as many fell out before coming to the stretch and as soon as one was wounded, there would be two to four to get him off, so it lessoned our numbers very fast.
When I brought off the Regt. from the field there was about one hundred of us trusty soldiers as ever faced a foe. I AM NOW SPEAKING OF THE GAINES MILL FIGHT AS IT IS NOW CALLED. IT WAS THE HARDEST FIGHT OF THE WAR.
I do wish to brag of my bravery, but I can say that I am perfectly satisfied with myself under fire, and I think that my boys can say the same of me. I expect there will be some large stories told in regard to courage, but some of them did not show it while others done honor to themself. But I will let that drop and talk of something else besides the misery of war.
I WILL NOW GIVE YOU A LITTLE SKETCH OF MYSELF. I AM AT THE PRESENT TIME ACTING LIEUT. COL. WHILE COL. FRICK IS ACTING COL. BUT STILL EVERYTHING GOES AS I SAY. I WAS IN FULL COMMAND FOR ONE WEEK BUT GOT ALL WORN OUT AS I HAD NO HORSE. BUT NOW I HAVE A HORSE AND ALL THE FIXING, THAT IS I HAVE THE COL., ALSO DR. BRICKETT SO I SHALL NOT FOOT IT MUCH FOR THE PRESENT.
Col. Frick and I have one tent together. He is a very fine man. I like him very much. He is a perfect gentlemen. I was very fortunate in getting such a man. He is one of those men that is not stuck up and still he is rich; also belongs or connected to the first family in Penn. We are getting along finely.
We have a very nice tent. It is beside of a wood and near a brook. Our Regt. is in front of us some eight rods. Our Brigade General Head Quarters is but a few stops from us. I now have a nice cot to sleep on. We have cedar for a carpet. He has very nice things for a camp and with what I have, we fit out the camp quite nice.
I have a little table fitted up that I am now a writing upon. It has on it my Tactics, Life of John Randolph Portland Transcript, also some lemons & oranges, but they are some I had given me.
I am getting along well in regard to living but still want for many things. It is awful hot here at the present time. I have never knew it so hot as it is now. You have nothing (in) Maine like it, but still I stand it well. I have great reason to be thankful that I am blessed with such good health. I have never yet seen the first sick day since I came into the Army.
We now have a great many that is on the sick list. I look after them as well as I can to make them comfortable, but few is in the hospital, but many are sick with the summer complaint and stay in their Company.
John left last Thursday for the North, but I do not know that he is going home, but he had a leave of absence for twenty days. Dr. Warren also had one for the same length of time, also the Chaplain. So you see we are rather short of Field & Staff Officers, both Drs. gone, Col. Lieut., Maj., Chaplain and eleven of the line Officers is gone, so the Regt. is bad off for Officers, but still I shall try to do my duty.
I hope you will be as easy as you possibly can about me as I am well enough off. I can soon get all I want to eat from the landing as Sutler Stores will be plenty soon.
As for danger, I think nothing about it. I shall try to do my duty when called upon. I AM SURE I SHALL NEVER GO WHERE THE LEAD AND HAIL WILL FLY THICKER THAN IT DID AT GAINES HILL. But I will leave it for others to tell.
I think some of going to Washington within a day or two after some clothes, as I HAVE NOTHING TO WEAR. THE CRICKETS EAT UP MY COAT, THAT IS WHAT WAS LEFT OF IT FROM W. P. (WEST POINT), ALSO MY BOOTS ARE ALL GONE, SHIRTS, AND FINALLY I HAVE NOT ANYTHING FIT TO WEAR. I AM ASHAMED TO BE AROUND AMONG FOLKS WITH SUCH CLOTHES.
I see the names of the men Field Officers of the 16th Me. I do not think it shows much good judgment in the Gov. in appointing all new men to take charge of a raw Regt. I see in the Phila. Papers today that the Gov. recommends that all the Officers of the new Regt. be appointed from the old ones that has seen service. Bully for him. I do not want a commission in this under Col. Jackson, nor I will not accept of one as I do not like him, nor I will never be jumped, if I am, I shall resign. I will take a commission in any of the other Regt., even to go to N. C. or anywhere but under Jackson.
I think there have been some letters written from the Genl. in this Div. about having me appointed Lieut. Col. or something of the kind, but do not know to be a fact. I have not wrote to him for an office, and I think I shall not. Yours, Clark
Poor Major Edwards with his tattered uniform… eaten by crickets? Here is a copy of Edward's CDV. Check out the bottom of his coat! A wonderful Gaines Mill letter.

Estimate $2,500+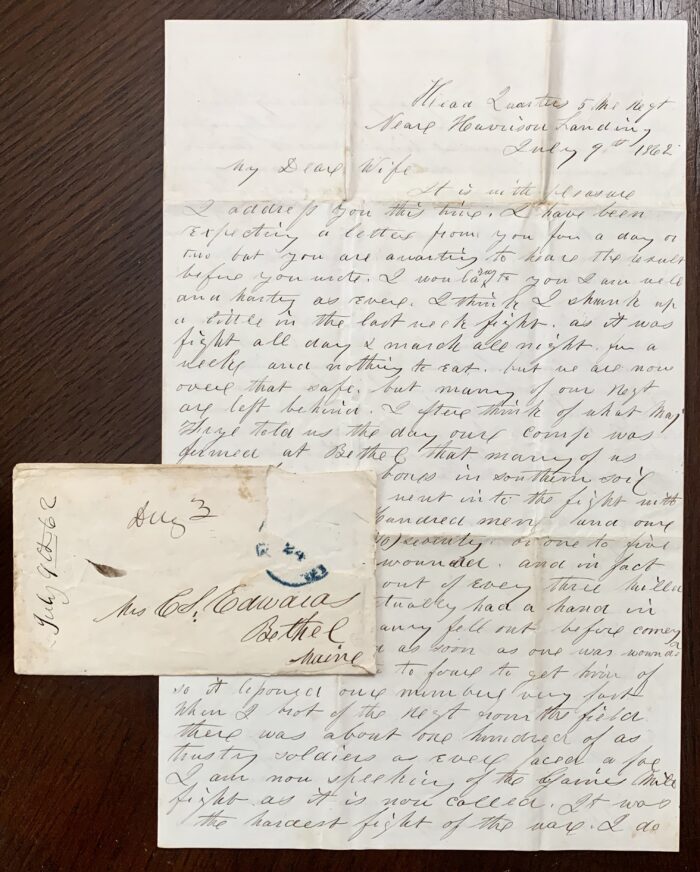 Please click image for photos of the July 9th, 1862 letter.


MAY 20th, 1863 – Following the Battle of Chancellorsville, Col. Edwards Writes to the Parents of One of the Men he has Just Lost in Battle: Sergt. Washington F. Brown of Co. I Killed in the Battle of Chancellorsville, Va. "MANY TEARS HAS TRICKLED DOWN MY CHEEK SINCE I COMMENCED THIS LETTER." – Col. Clark Edwards Describes Going with the 5th Maine Chaplain to Comfort the Wounded and Dying… Truly Amazing Content!
Edwards was so touched by the job that he had to do in writing a condolence letter that he wanted to first share his feelings with his wife. THIS LETTER WAS NO DOUBT THE ONE THAT CLARK FIRST CONSTRUCTED… YOU CAN SEE THE INKBLOTS ON IT FROM HIS TEARS AS HE WROTE IT. CLARK THEN REWROTE IT FOR THE BROWN FAMILY WITHOUT HIS CORRECTIONS. HE WANTED HIS WIFE TO KEEP THIS ORIGINAL AND SENT IT TO HER. In the heat of war, how many husbands would bother to do this? But that's the way Clark Edwards was. He has left us with one of the most touching, heartfelt letters that we have ever read. It comes with the original envelope on which Clark wrote "Copy of Simeon Brown's letter May 20th, '63".
Head Quarters 5th Me. Vol. Camp Near W. 0. Church (May) 20th /63. Mr. Simeon Brown & Wife
My Kind Friends, FIVE WEEKS HAVE PASSED SINCE THE DEATH OF YOUR BELOVED SON, and I have neither had time or heart to write you till now. Pardon me in neglecting it so long. My excuses are that MY HEART FAILED ME WHENEVER I ATTEMPTED TO WRITE.
Washington has been with me for the last two years. Hardly a day but I have seen his noble form attending to his duties faithfully. He was one that was always ready to do all that was allotted him. His loss is greatly felt in his company, and I can truly say now that he is very much missed by all of the Regt.
When I commanded the company, I always found him ready to take the most exposed or dangerous position. Whenever we had fighting to do he was always there. Not a battle or skirmish that the 5th has been engaged in but he has taken part.
THE LAST BATTLE ON SUNDAY EVENING MAY 3RD WAS WHEN HE DONE HIS LAST FIGHTING. IT WAS THERE UNDER THE STARS & STRIPES WE LOVE SO WELL THAT HE FELL MORTALLY WOUNDED. At the time he was near the rear of the Regt. We were then some fifty rods from where we encountered the enemy.
I did not learn he was wounded till I joined the Brigade some hundred rods or more to the rear. Then it was dark or sometime past sunset. We halted and found our Brigade. Our men were all tired out & as soon as they eat their supper, the most of them camped down for the night.
It was here the Chaplain joined us as he had just come from the hospital from the city where we had left our poor fellows that were wounded in the morning fight.
I then told him of our last battle and of the numbers we had lost. THE GOOD OLD CHRISTIAN LOOKED THEM OVER WHILE THE TEARS WERE STREAMING DOWN HIS FURROWED CHEEK.
IT WAS THEN IN THE PALE LIGHT OF THE MOON WITH THE DEAD & WOUNDED LYING AROUND US THAT HE KNEELED DOWN AND OFFERED UP A PRAYER TO THE MOST HIGH AND AT THE CLOSE OF THAT NOBLE PRAYER, I COULD SEE THE TEARS GLISTENING UPON EVERY CHEEK.
After this little service was over, the poor tired men laid down upon their arms to forget their awful loss & great trouble in sleep. Hours later then this that night as I were lightly treading among them, I COULD HEAR THE SIGHS & SOBS FROM MANY A TENDER BOSOM. They were mourning for those dead ones that had gone from them. The hours that had stood with them shoulder to shoulder on many a well fought battlefield.
IT WAS NOW MIDNIGHT AND ORIN (WASHINGTON'S BROTHER, ORIN S. BROWN) COME & TOLD ME HE HAD SEEN WASHINGTON AND THAT HE WAS STILL ALIVE AND WANTED TO SEE ME & THE CHAPLAIN (REV. JOHN R. ADAMS) BEFORE HE DIED.
The good old man with me went back to the battlefield, and THERE UNDER THE PIAZZA OF A LITTLE FARM HOUSE WE FOUND HIM AND TWO MORE OF OUR POOR WOUNDED MEN. He seemed very glad to see me. I took him by the hand and talked a few moments. He was in great distress. HE TOLD ME HE WANTED TO DIE TO GET OUT OF HIS AWFUL MISERY.
I told him I thought he could not live but a few hours at most. He seemed to be ready to die. He seemed very thankful that I had come back to see him. My heart was full. I could not say but little to him.
The Chaplain prayed with them poor fellows there in the stillness of the night. The Rebels line of battle then was within fifty rods of us so everything had to be conducted very quietly & still. If not a Rebel bullet would notify us of their nearness.
I took two men with me to move these poor wounded men inside of our lines so our ambulances could take them away to the hospital. We placed them upon boards & carried them off our inside lines in that way. But they were not carried to the hospital until the next morning.
I saw him on his way to the hospital as he passed but did not have a chance to speak with him. He was taken to Falmouth and there to Washington City, where I learned he died, a little more than a week time after he was wounded.
He has now gone to the place where trials & troubles are not known. He was one of the finest soldiers in the 5th Me. Regt., always ready & willing to do his duty. Old Oxford has never lost a better soldier or one that is deserving of a better name. I do not recollect of ever hearing a profane word from him since joining the Army, and he was one of the few that stuck to that sacred and solemn pledge of never more to taste of strong drink. His good deeds will long be remembered by all of the members of this Regt.
His life he has given to his country, and his spirit has gone to the God that gave it. He has won by exchange, worlds for the better, but few that leave so clean a record behind as he does. You doubtless mourn his great loss as a darling son and one that was as dear as life to you. But then you must see what is loss to you is gain to him. You must not lay it at heart but feel that it was so ordered by the most high. He fell nobly fighting for his country.
Yes, fighting to sustain the freest and best government the world has ever yet known. He has given all that man can give. For the last three years he has deprived himself of all the comfort of a good home, of friends, of society, of everything that comprises happiness in this life, & at the last, he has given life itself.
You should feel proud that you ever had such a son, and that you have given him to your country and that he fell while defending that flag which is ever dear to us. The flag that floats upon every sea and is wafted by the breezes of every clime. It is honor & glory to die in such a noble cause. His memory will be cherished by the good in future generations, while the traitors will be despised by every true patriot of our land.
Weep not too much for him, as he has gone to the land of rest. He died let me tell you with honor stamped upon his noble brow. His memory will be kept fresh by us all. I miss him in almost every place I go, and MANY TEARS HAS TRICKLED DOWN MY CHEEK SINCE I COMMENCED THIS LETTER.
I only have to regret that I have not done more for him. He has been one of my truest & best friends ever since the Regt. was formed. I have not told you but few of his good qualities in this. I could cover many sheets with noble & brave acts of his, but my heart is too full to write.
I hope I may see you in a few days, as I expect to visit my family, and then I can tell you that of which I am unable to write. I only have to say that I cannot do him justice on paper. I must now bid you good bye, hoping that God will give you strength & fortitude to bear this great calamity. I know that your loss is great, but his gain is more. Yours Truly, C. S. E. (Clark S. Edwards) Col. Comdg. 5th Me. Vols.
Condition is fine. One of the most touching letters we have encountered.

Estimate $1,500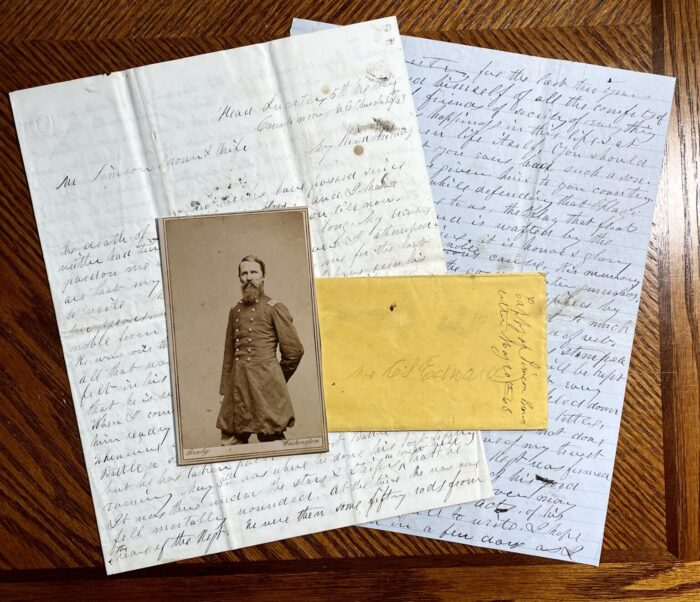 Please click image for photos of the May 20th, 1863 letter.


NOVEMBER 9th, 1863 – THE BATTLE OF RAPPAHANNOCK STATION – 4 ½ PAGES IN INK & PENCIL HAVING NOT ENOUGH PAPER, EDWARDS FINISHES THE LETTER WRITING ON AN ENVELOPE FROM HIS WIFE!
Camp in the Field Near Brandy Station Nov. 9th, 1863
Dear Wife I wrote you a few words in a note yesterday & can do no more than that today as I have no chance to write. I send my official report to Augusta in the morning in the same mail with this.
ONLY TWO MEN FROM COMPANY I WAS KILLED. HIS NAME WAS DAILY, A RECRUIT. THE TWO OFFICERS KILLED WAS LIEUT. TUBBS AND LT. FRENCH, CO. B.
Our loss besides these two officers killed, Lt. Col. Millett, slightly wounded before getting into the fight, with a help for him to get to the rear.
Nov. 10th I commenced this yesterday, but we had to move before I got a chance to close it. Our move last night was short. I am now on picket as Division Officer of the day. I posted the line last night at midnight. My Regt. is not out. They are to the rear about a mile. I have picket for nine Regts. to look after.
I feel I'm getting to be some pumpkins. My line is from Wolford Ford on Hazel River South and connects with our Division. But no more about my duty here, but now to what I have done.
I did not tell you all I accomplished on Saturday evening last. I HAD NOT LESS THAN ONE HUNDRED OFFICERS SURRENDER TO ME.
I HAD AT ONE TIME (24) TWENTY-FOUR SWORDS AT ONE TIME.
I CAPTURED COL. PENN, COL. MORGAN, COL. PECK, COL. GOODWIN, COL. MURCHISON, COL. WEBB, LT. COL. JONES, LT. COL. ELLIS, LT. COL. TAIT, MAJ. YORK. ALL OF THE ABOVE FIELD OFFICERS SURRENDERED TO YOUR HUMBLE SERVANT. THE FIRST THREE FIELD OFFICERS WAS FROM STONEWALL JACKSON'S BRIGADE. AND THE BEST OF ALL, I HAVE THE HONOR OF CAPTURING THE WHOLE OF STONEWALL JACKSON'S OLD BRIGADE. THAT IS WHAT WAS LEFT OF THEM.
I have a thousand things to tell you that I cannot write here. I dare not tell all in this. Only do not feel too proud. Say but little about it. The truth will out in time. I THINK I HAVE EARNED A STAR, AND I GUESS I WILL GET IT. I WILL SAY THIS THAT NO OFFICER STANDS BETTER OR HIGHER THAN MYSELF, OR AT LEAST I THINK SO.
MY REGT. TODAY STANDS THE HIGHEST OF ANY REGT. IN THE SERVICE. GO INTO ANY REGT. IN THE POTOMAC ARMY, AND IT IS ALL FIFTH MAINE & COL. E. BUT I WILL NOT BRAG, BUT WILL TELL YOU OF ONE LITTLE INCIDENT…
…AS I WAS GETTING IN THE PRISONERS IN THE DARK THAT NIGHT. I HAD SENT ALL OF MY MEN TO THE REAR WITH THE PRISONERS TILL I HAD BUT SIX WITH ME. STILL I KEPT ON TILL I WAS A LONG WAY FROM THE MAIN BODY OF THE REGT. I CAME UPON THREE COL. OF THE LOUISIANA BRIG. ALL AT ONE PLACE.
ONE OF THEIR COMMANDERS, THE BRIG., I DEMANDED HIM TO SURRENDER BUT HE HESITATED & SAID HE WANTED TO CONSULT HIS OFFICERS. I TOLD HIM NO, NOT A MOMENT WOULD I GIVE, THAT MY COLUMNS WAS ADVANCING. I THEN GAVE THE ORDER FOR THE 5TH MAINE AND 121ST N. Y. TO FORWARD QUICK. THE FOOL COULD SEE HIS OWN MEN GOING THE OTHER WAY AND THOUGHT IT WAS MY MEN AND HE SURRENDERED AT ONCE, BUT I RETURNED HIS SWORD TO HIM AND TOLD HIM HE COULD RETAIN IT. BUT THE OFFICERS IN CHARGE OF THE PRISONERS TOOK IT FROM HIM, BUT WHEN GENL. WRIGHT LEARNED THE FACTS, HE RETURNED IT TO HIM AND COMPLIMENTED ME FOR MY GALLANTRY, BUT I SAY NO MORE.
You see I WROTE THE WHILE ON PICKET AND IN THE COLD. Love to all. Kiss the little ones but keep cool & let your hair curl. Clark
Note that his last few lines are on an envelope that his wife had sent. The stamped envelope included has an ink notation on it: "Written on battlefield sitting on a dead horse." It is postmarked November 10th.

Estimate $3,000+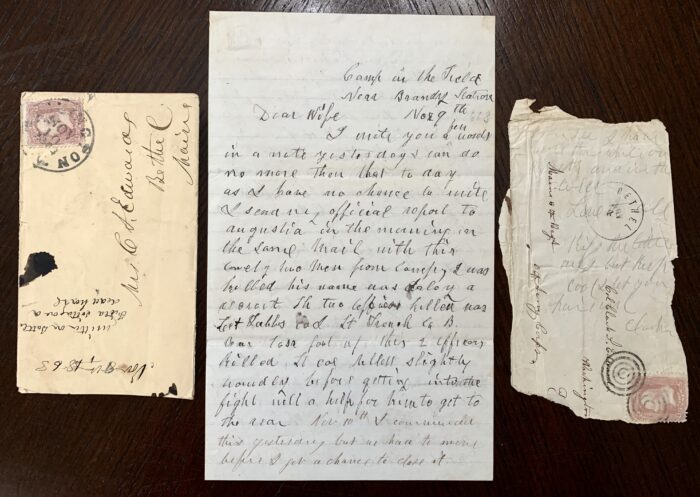 Please click image for photos of the November 9th, 1863 letter.


NOVEMBER 12th, 1863: HAND-DRAWN MAP OF RAPPAHANNOCK STATION ALONG WITH 6 NEWSPAPER ARTICLES ABOUT THE BATTLE & COL. EDWARDS
The map of Rappahannock Station measures 15 ½ x 12 inches. It is drawn in black and red ink. In the left corner is written, "Sketched by L. M. Clark November 12th, 1863." Lucius M. Clark was Col. Edwards Quarter Master Sergt. The map shows great detail (see our close-up shots).

The first newspaper article (all newspaper clippings were taken from Clark Edward's scrapbook) is entitled, "The Charge at Rappahannock Station" (Philadelphia Inquirer). There are four other articles about the 5th Maine and their casualties. Also, about interesting incidents. The last article, quite large measuring 13 x 5 inches, was done in 1893. It is entitled, "Stories of Adventure, Col. Edwards Chats About the Fifth Maine at Rappahannock".

Estimate $1,800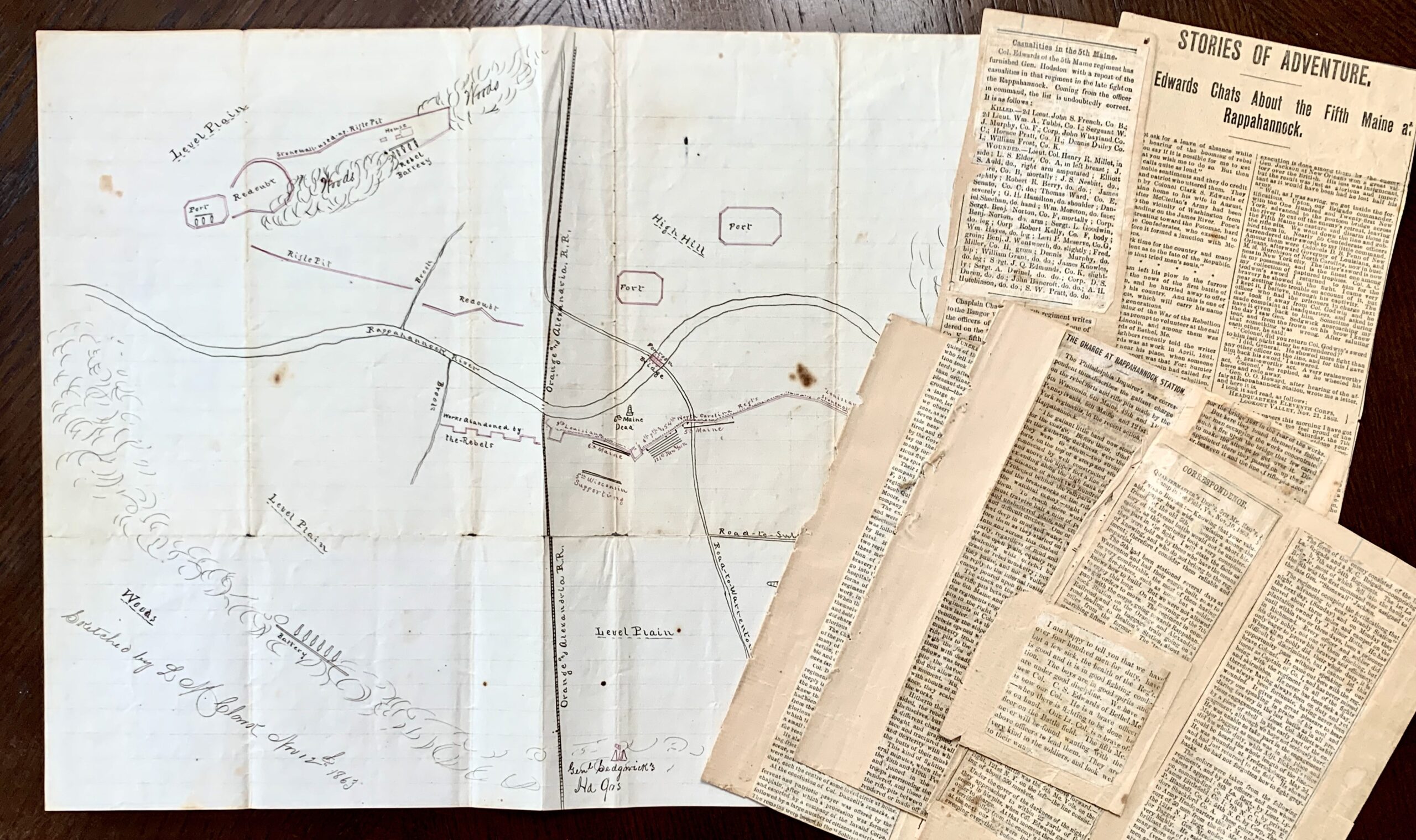 Please click the image for photos of the map and articles.


DECEMBER 3RD, 1863: ACTION FOLLOWING RAPPAHANNOCK STATION – 8 LONG PAGES IN INK
Head Quarters 5th M. Vol. Camp near Welford Ford, Va. Dec. 3rd, 1863.
Dear Wife, Well, I AM ONCE MORE BACK TO OUR OLD CAMP AFTER ONE OF THE HARDEST MOVES I HAVE SEEN SINCE LEAVING MAINE. I CAN TRULY SAY I HAVE NEVER SUFFERED SO MUCH IN THE COLD AS OF THE LAST EIGHT DAYS.
WE BROKE CAMP AT THIS PLACE LAST WEEK, A THURSDAY, NOV. 26TH AND MOVED ON BY BRANDY STATION, AND WHEN ABOUT ONE MILE FROM THAT PLACE, WE FOUND NOT LESS THAN ONE HUNDRED TEAMS STUCK IN THE MUD.
Our Brigade was detailed as rear guard and to help along the rear team which we might find hung up. I need not tell you it was not a very pleasant job. AT DARK WE HAD NOT LESS THAN SEVENTY-FIVE, SIX-MULE TEAMS TO MOVE NEAR ONE MILE IN THE MUD AND WHEN I SAY MUD, I DO NOT MEAN WHAT YOU CALL MUD DOWN EAST, BUT MUD FROM A FOOT TO THREE FEET DEEP.
Well, it took us till near midnight to haul them, although I could not help thinking of the contrast between we poor fellows there in the mud & our friends at home, who were many of them enjoying themselves in the merry dance & with rich dinners & suppers.
Who is there in our lovely town that would begrudge one of the pay and honor he gets in this show? If there be such, I would like to have them go through what we have for the last week. I think one week of winter campaign like the last we have passed through would be quite sufficient to cool their ardor.
I will now keep on with our move. As soon as the teams were on the road and once more moving, we were on the march. We moved on towards Jacobs Ford on the Rapidan and at one o'clock Friday morning, we halted for the balance of the night and camped down.
What would your white kid gentry and the fancy dressed damsel said to have seen us at that time, covered with frozen mud and nearly frozen ourselves. The boys soon had fire going and dried themselves & then made their little dipps of coffee and with a hard bread or two made out their supper.
It was past two o'clock before we got to sleep and there again at five we were up and a little past six we were again on the move. We reached the Ford I think at nine o'clock a.m. and crossed on our pontoon Bridge WHILE THE BAND PLAYED UPON THE HIGH BLUFFS UPON THE OPPOSITE BANKS.
This was the first time that this command were crossed the Rapidan. As soon as our whole Corps were over, we rested some four or five hours upon the ground that the 3rd Corps camped on the night before.
AT THREE P.M. THE FIRST DIVISION OF THEIR 3RD CORPS COME UP WITH THE REBELS NEAR THE PLANK ROAD LEADING FROM FREDERICKSBURG TO GORDANVILLE, BUT SOON THE JOHNNIES TURNED UPON THEM AND DROVE THEM BACK ABOUT ONE-HALF MILE.
HERE AGAIN THIS DIV. WAS REINFORCED & DROVE THEM IN RETURN BUT WAS SOON COMPELLED TO FALL BACK AS THE REST OF THE CORPS HAD NOT GOT UP. BUT SOON THE OTHER DIV. WAS UP & CORPS WERE IN SUPPORTING DISTANCE. THE FIGHT LASTED TILL DARK AND BUT LITTLE GAINED TO EITHER SIDE.
We held the larger portion of the ground fought over. Our Brigade were under fire, but I do not know of any being killed & not many wounded. We camped down upon the line of battle expecting it would recommence at daylight, but at one o'clock Saturday morning, we were again upon the move as THE REBELS HAD LEFT AT DARK AND IN SUCH HASTE THAT THEY DID NOT BURY THEIR DEAD & MANY OF THE WOUNDED WERE LEFT IN THE HAND OF THE 3RD CORPS WHO DID NOT LEAVE TILL AFTER DAY LIGHT.
We now moved on towards Orange Court House but at a distance of five miles, we overtook the rascals, but they were in such a strong position that our Genls. thought it best not to attack them at that point. This was near Robinson Tavern upon the Plank Road running from Warranton to Fredericksburg. We lay here all day, a Saturday as we reached this place soon after day light and skirmishing were all the time at it, but few were killed and none from my Regt.
It rained quite hard from nine o'clock a.m. till about four p.m., then cleared away. This night we got a little rest expecting the fight would open early on Sunday morning, but our Army were not yet ready. I WAS DIV. OFFICER OF THE DAY ON THIS OCCASION. I TOLD GENL. WRIGHT I WOULD PREFER A LITTLE LESS HONOR THEN TO HAVE SO MUCH DANGER & HONOR AT ONCE, BUT HE THOUGHT I WAS GOOD FOR THEM.
AS I WAS ARRANGING THE PICKET LINE IN THE MORNING, ONE OF THEIR SHARP SHOOTERS TOOK ME FOR A MARK, BUT HE MISSED BY A FEW FEET OVER MY HEAD.
ALSO IN THE AFTERNOON, I HAD FIVE SHOTS FIRED AT ME IN LESS THAN TWO MINUTES TIME AND SOME OF THEM COME WITHIN A FEW INCHES OF ME. BUT AS THE SAYING IS A MISS IS AS GOOD AS A MILE. I TOOK THEIR FIRE UPON ME AT THIS TIME AS AN INSULT AND OPENED ONE HALF OF MY PICKET LINE UPON THEM. BUT STILL THEY KEPT IT UP. I THEN THOUGHT I WOULD DRY THEM UP BY SOME OTHER WAY THAN TO FIRE AT THEIR FEW SHARP SHOOTERS HID UP BEHIND THE TREES.
THERE WAS A THICK CLUMP OF LITTLE PINES IN MY IMMEDIATE FRONT WHICH I KNEW CONTAINED AT LEAST ONE REGT. & PERHAPS TWO, SO I HAD ABOUT FIFTY OF MY MEN PUT IN THE POWDER OF THE CARTRIDGES & DIRECTED THEM TO FIRE DIRECTLY INTO THE CENTER OF THIS GROVE, AND AS I GAVE THE COMMAND FIRE, NOT LESS THAN FIFTY BULLETS WENT IN AMONG THEM. WE COULD HEAR THEM SCREAM AND I HAVE NO DOUBT IT TOOK SOME OF THE GRAYBACKS AS THEY DRIED UP FIRING AT ONCE. I SAW THEM CARRY OFF ONE UPON THE STRETCHERS.
Soon after dark I was relieved of the command of the Picket by Maj. Fuller of the 6th Maine. I begun to smell the rat at the time but did not know for a certainty till ten that evening when I had an order to be in readiness to move precisely at two Monday morning. So I laid down for two & a half hours as I had to be up at half past twelve to get the Regt. ready. Well at two we were off again, but only to move about a mile as we done this under the darkness of night. After getting into our position we were allowed to lay down for two hours or near that time, but not one spark of fire was allowed us. Some of the men were without overcoats and some without blankets. I need tell you that we all suffered with cold.
CAPT. LEMONT FROZE HIS FEET WHILE ASLEEP. AT DAYLIGHT WE WERE UNDER ARMS AGAIN & AT EIGHT O'CLOCK IF ALL WERE READY, THE ATTACK WAS TO BE MADE BOTH ON THE RIGHT & LEFT, & THE THREE SIGNAL GUNS ON THE RIGHT WERE TO BE FIRED FIRST, THEN THREE FROM THE LEFT AT EIGHT PRECISELY. BANG, BANG, BANG WENT THREE OF OUR LIGHT TWELVE POUNDERS & SOON WE HEARD THE SAME ON THE LEFT. WARREN COMMANDED THE LEFT IN PERSON, SEDGWICK THE RIGHT.
Warren was to press the fight up to nine & THEN WAS TO COME ONE OF THE MOST DARING THINGS OF THE WAR, THAT IS OUR BRIGADE & THE FIRST OF THIS DIV. WHICH IS THE JERSEY ONE TO OPEN THE BALL BY A GRAND CHARGE OVER OUR OPEN FIELD UPON THREE LINES OF RIFLE PITS WHICH WERE WELL SUPPORTED WITH ARTILLERY IN THE REAR…
…but as fortune would have it, Warren made a feint trial & gave up his part of the show & then Sedgwick received a dispatch not to move on his part of the line. I am thankful we did not make the move. If we had we should not get out of it with ten whole men, as we afterwards found they were in readiness for us.
I will say this that I was almost alone against the attack, and no one doubted my willingness to fight were the chance very equal. We lay here from three o'clock a.m. till after dark with no fire at all. This was Monday Nov. 30th and I can say I NEVER SUFFERED MORE IN A DAY IN MY LIFE IN THE COLD THAN I DID ON THAT.
We got back to where we left in the morning, ate our supper before a good log fire, a much happier man if not a better one. That night I got some sleep, almost the first since breaking camp at this place. Tuesday we lay there all day. I did not get five rods from my fire from the time I got up till we left that night for this place. We started at or soon after dark & come on by Robinson Hotel, thence by Kelley Ford, a short distance & and rested for three hours after marching all night. I will here say I was in command of the Brigade as Upton was left to withdraw the picket lines which he done before light yesterday morning. We left this resting place at ten o'clock yesterday A. M. & come about two miles & camped near the road through the afternoon & last night. I will here mention that I saw Lock the Singing Masters that used to be at Bethel, also one of Nathan F. Twitchell boys as they passed us at this place. They were both looking well. We left there this morning at daylight & come on by Stevensburg, thence by Brandy Station to our new home.
I found my chimney all standing in good order, but some rascals stole my flour while I was gone. Today the weather has been quite fine, the first since leaving. We reached our camp at two this afternoon, being gone almost eight days. I have lost none of my Regt. that was with me on this move but HAVE LOST FIVE THAT WERE CATTLE GUARDS THAT WERE ON ANOTHER ROAD NEAR BRANDY STATION. ONE OF THE NUMBER WERE KILLED & FOUR TAKEN PRISONERS. THE MAN KILLED WAS COPL. BLETHER OF COMPANY E, LEWISTON. THE PRISONERS TAKEN WERE FROM CO. C & H. THIS CAPTURE WAS MADE BY MOSBY.
HE ALSO AT THE SAME TIME BURNT UP SOME TWENTY ARMY WAGONS & CARRIED OFF SOME TWENTY MULES & HORSES.
I have given you a brief history of our late move and at some future time will say more about it. I have just received orders to have my Regt. in readiness to move early in the morning as it is reported the Rebels are following up with large force and are crossing at Raccoon & Morton's Fords. I do not credit the story, but if he comes, we shall have a big fight as we have a fair ground to fight him on. But don't you fret about me. I shall come out all right.
I must now close as it is late. I will say we have not had a mail for eight days, so know nothing about you at home. I am in hopes we will get our back mail tomorrow. One paper come tonight in the Brigade Head Quarters Mail to my 2 Masters. The Transcript, I think. I get profit enough for one paper, but it is all true and much more could be added & be true, but no more of this.
I will close by saying I am well & hearty. Love to all. Kiss the little ones for me. Yours, Clark (Excuse all mistakes. In a hurry.)
Estimate $1,500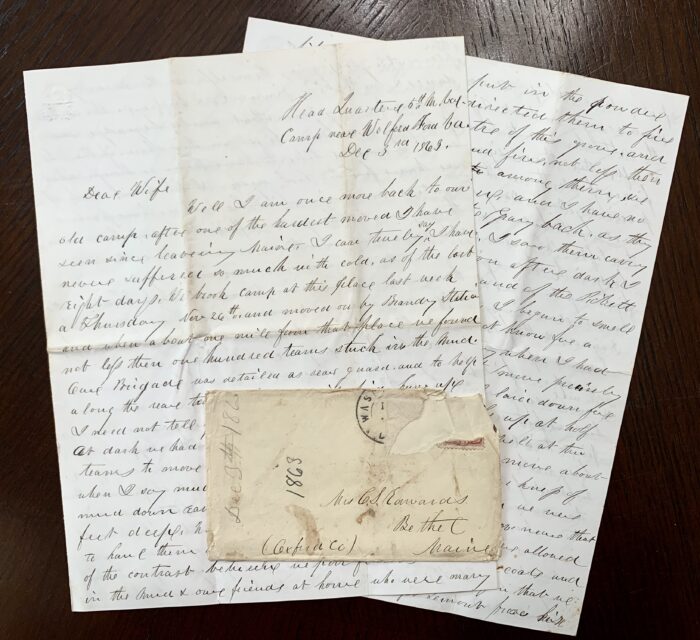 Please click the image for photos of the December 3rd, 1863 letter.


MAY 19TH, 1864: THE BATTLE OF SPOTSYLVANIA COURT HOUSE – TWO LEGAL SIZE PAGES IN INK
Camp 5th Me. Vol. In the woods near Spotsylvania Court House May 19th, 1864
Dear Wife, As I have a little spare time I thought I would write you a few lines to let you know how things are progressing. We are now within one & quarter miles of the Court House on a road leading from the Bowlingreen Pike. We are about fourteen miles from Fredericksburg.
I wrote you of our loss in my last letter. Since then Capt. Clark (Daniel Carlton) & Lt. O. B. Stevens have died. I HAVE NOT A CAPT. LEFT WITH ME, but three of them are detailed on extra duty. Capt. Stevens (John Hubbard) with Div. H. Quarters, Capt. Walker (Nathan) with Recruitment, Capt. Sanborn (Fred G.) is Brigade inspector in the place that Capt. Hall filled.
I COMMENCED THIS CAMPAIGN WITH SIX CAPT., TWO OF THEM ARE DEAD AND I FEEL ANOTHER MAY GO THE SAME WAY. I LEFT WITH SEVENTEEN LINE OFFICERS, OUT OF THAT LOT I HAVE THREE LEFT.
WHOLE REASON I HAVE TO BE THANKFUL AS I HAVE ALWAYS BEEN IN THE THICKEST OF THE FIGHT. I LED MY REGT. IN THE CHARGE AND WAS ONE OF THE FIRST TO ENTER THE REBEL WORKS ON THE 10TH AND THERE AGAIN ON THE 12TH.
I RALLIED MY LITTLE BAND BY SNATCHING UP MY FLAG AND CALLING UPON MY BOYS NOT TO LEAVE ME. THERE WERE SEVENTEEN BULLET HOLES PUT THROUGH THE REGT. BANNER AND SIX OR EIGHT THROUGH THE NATIONAL & NEITHER WERE UNFURLED BUT FEW MINUTES IN THE FIGHT.
WE CARRY THEM ROLLED UP THE MOST OF THE TIME OR BUT LITTLE UNROLLED. ONE OF THE FLAG STAFF WAS HALF SHOT AWAY. THREE OUT OF FOUR OF THE COLOR GUARD WERE KILLED OR WOUNDED. THURLOW (CYRUS T.) WAS ONE OF THE NUMBERED & BUMPUS (MORRIS F.), THE FELLOW WHO PULLED THE REBEL OFFICER OUT OF THE RIFLE PIT AT RAPPAHANNOCK, HE WAS ANOTHER.
I THINK MY LOSS SO FAR IS ABOUT ONE HUNDRED & FIFTY AND OF THAT NUMBER, FORTY AT LEAST ARE DEAD OR WILL DIE OF WOUNDS. I THINK I WROTE YOU THAT WE CAPTURED NO SHROUD OF COLORS IN THE CHARGE OF THE 10TH.
I HAVE NOT YET BEEN INJURED BUT A LITTLE, WAS HIT BY A SPENT SHOT OR FRAGMENT OF WOOD FROM ONE OF THEIR SHELLS. I HAVE A BAD ANKLE WHICH I HARMED IN ONE OF THE CHARGES.
I HAVE NOT CHANGED MY CLOTHING SINCE I LEFT CAMP NEAR THREE WEEKS AGO SO YOU KNOW HOW DIRTY WE ARE GETTING. I HAVE JUST SEEN THE OXFORD DEMOCRAT WHICH SAYS COL. EDWARDS IS WOUNDED & MILLETT (HENRY R.) KILLED BUT SAY TO THE FOLKS IT IS NOT SO AS I AM ALL RIGHT & SO IS MILLETT, AS HE WAS NOT IN BUT ONE OF THE CHARGES & DODGED ONE.
The PM is waiting for this and as I have no time I must close. My Regt. is in good condition considering what it has gone through. WE WERE UNDER FIRE ABOUT HALF THE DAY YESTERDAY BUT ALL IS QUIET SO FAR TODAY. I AM EXPECTING WE WILL HAVE A BRUSH YET TONIGHT BUT PERHAPS WE MAY YET BE OVER IT. I AM IN COMMAND OF THE REG. TODAY AS UPTON IS AWAY. I AM BUILDING RIFLE PITS IN A FEW RODS OF THE REBELS' LINE. Love to all, Clark
What a great, great letter. The battle of Spotsylvania Court House was fought May 7-13th, 1864 and this letter was written just a week after.

Estimate $2,500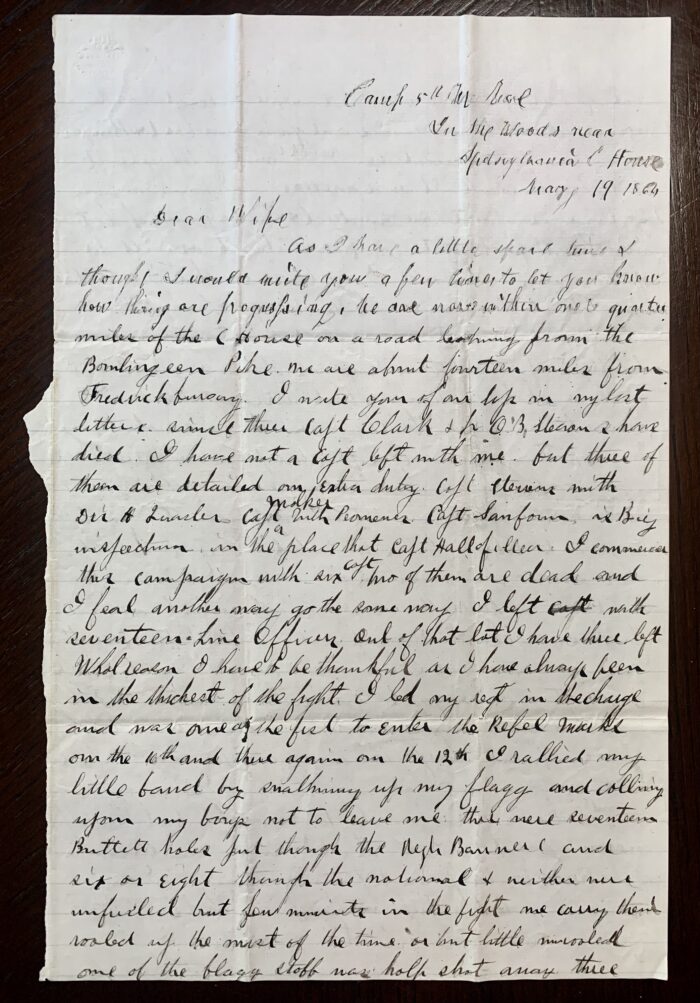 Please click on image for photos of the May 19th, 1864 letter.


MAY 28TH, 1864: EDWARDS WRITES USING CONFEDERATE PAPER & ENVELOPE, WRITING 4-PAGES IN PENCIL – MORE ON THE LOSSES AT SPOTSYLVANIA COURT HOUSE
Hanover Ferry, Han. Co. South Side of the Pamunkey River May 28th, 1864
Dear Wife, I find time to write you a line this morning. I am now upon the south side of the Pamunkey River and some fifteen miles from Richmond.
We left our position upon the North Anna night before last and made this point yesterday at eleven o'clock a.m., A DISTANCE OF THIRTY MILES. TALL MARCHING I CAN TELL YOU.
WE ARE STILL COMPELLING LEE TO FALL BACK, AND I THINK HE WILL BE OBLIGED TO TAKE UP THE DEFENSES OF RICHMOND SOON. WEDNESDAY NIGHT WE WERE ENGAGED IN DESTROYING THE R. R. BETWEEN NOLES & HEWLETT'S STATION UPON THE VA. CENTRAL.
I would say that I was here put out to the front as usual. THIS WAS A LARGE DAY FOR MY BOYS AS THEY CAPTURED PRISONERS, HORSES, MULES, CHICKENS, PIGS, AND A LARGE VARIETY OF ALMOST EVERYTHING.
I CAPTURED A SADDLE, BRIDLE, HALTER, ALSO CAPT. MINON SOWARD'S TRUNK AND DISTRIBUTED THE CONTENTS TO MY MEN.
I HAVE A LARGE COLLECTION OF REBELS' TROPHIES SUCH AS SWORDS, SPURS, BELTS, POWDER FLASKS, MOLDS, SADDLES, BAGS, ETC.
I AM SENDING MY OFFICIAL REPORT TO GENL. HODGKIN OF WHICH YOU WILL SEE IN SOME OF THE MAINE PAPERS. MY LOSS UP TO THE PRESENT TIME IS ONE HUNDRED & THIRTY-SIX, ABOUT FORTY OF THAT NUMBER ARE KILLED & MANY OF THE WOUNDED ARE MINUS ARMS & LEGS. OF THE OFFICERS DEAD ARE LEMONT, CLARK, STEVENS, LYONS. THOSE WHO ARE DOUBTFUL ARE HUTCHINGS, ROBERTSON, FOSS, GRANIN. IN THE OTHER REGT. OF THE BRIGADE, THEIR LOSS IS ALSO HEAVY. COL. CARROLL, WILLACE, COL. ALCOTT, WOUNDED AND LEFT IN THE HANDS OF THE ENEMY, CAPT. GORTON WOUNDED, CAPT. BUTTS KILLED & TEN OR ELEVEN MORE OF THE SAME REGT. IN THE 96TH THE LOSS WAS NEAR AS MUCH AS OURS, ALSO THE 95TH, BUT MY LOSS OF OFFICERS ARE GREATER THAN ANY IN THE SERVICE THAT I KNOW OF. 2/3 OF ALL I HAVE TAKEN INTO BATTLE ARE KILLED & WOUNDED.
I saw Maj. Edwards a few days ago. He is all right. Davidson sent to Washington, Capt. A. B. Twitchell & Lt. Kimball all safe & in fact the loss in the Battery are very slight compared with the infantry.
I have wrote you in my last of the most I know of who are killed or wounded from Bethel. I have told you of my own exploits in the several engagements. I have been so that I was helped out of two of the fights but not injured to any amount, only by turning my ankle which troubles me some when I am on foot.
I have not received a letter from you since the 9th of May. I have received three since I left the old camp. Mailed as follows May 2nd, 5th, & 9th. I hope you will continue to write as usual. I hope we will get a mail soon & then I will hear from you all.
Our next base of supplies will be at White House some ten miles below here. I will here say that our move is onward to Richmond, & I think that so far we have got the best of it.
I THINK I WROTE TO YOU OF SEEING THE DEAD FIVE DEEP & THE WOUNDED ALMOST AT THE BOTTOM. WE HAVE TAKEN A LARGE NUMBER OF PRISONERS SINCE THIS CAMPAIGN & OUR REGT. STAND STILL AT THE HEAD.
NO REGT. IN THE SERVICE HAS A BETTER RECORD THAN THE 5TH & NONE AS GOOD THAT I KNOW OF. IF ALL REGTS. HAD DONE AS MUCH, THIS REBELLION WOULD HAVE BEEN WIPED OUT LONG AGO. WE HAVE CAPTURED TWO THOUSAND PRISONERS, ARMS, AMMUNITION, CAISSONS, BATTERIES, FLAGS, ETC., but I will now close by saying that I am all right & in good spirits. Clark
THIS IS SECESH PAPER & ENVELOPE.
Condition of the letter is fine. The stamp has been taken off of the Confederate paper envelope.

Estimate $1,250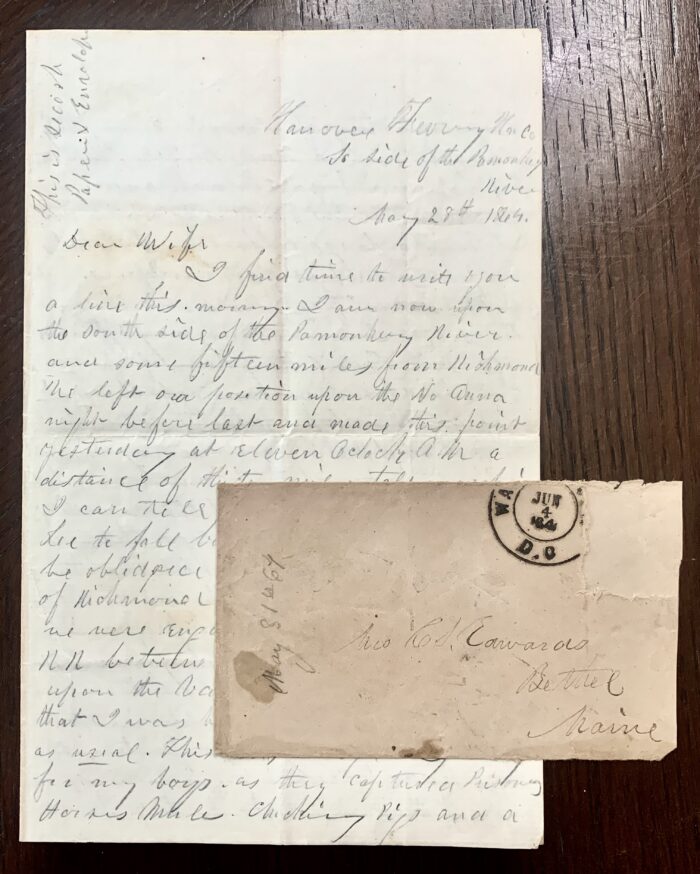 Please click image for photos of the May 28th, 1864 letter.


JUNE 4TH, 1864: BATTLE OF COLD HARBOR, VA. – 4 PAGES IN PENCIL WRITTEN RIGHT ON THE BATTLEFIELD!
Battlefield in the Woods Near Gaines Hill June 4th, 64
Dear Wife, Yours of May 26th was just received. I am ever glad to get a letter at such a time as this. You will see by the date of this that we are back upon our old grounds. I AM SO TIRED AND WORN OUT THAT I CAN HARDLY SIT UP TO WRITE.
WE ARE FIGHTING NIGHT AND DAY OR WHEN WE ARE NOT FIGHTING WE ARE ENTRENCHING. LAST NIGHT I HAD COMMAND OF THE 121ST REGT. WITH MY OWN. WE HAD BEEN ENTRENCHING THE FIRST PART OF THE EVENING AND AT TEN O'CLOCK THE REBELS ATTACKED US IN OUR PITS.
BUT AS IT WAS DARK THEY WERE SHOT AND AS OUR MEN WERE IN THE WORK, NOT ONE WAS HURT. I CAN ASSURE YOU THE BOYS DONE WELL. I LOST ONE ON THURSDAY & FIVE YESTERDAY & COL. MILLETT GOT A SLIGHT WOUND IN THE LEFT ARM TODAY.
THEY WERE SITTING IN A RIFLE PIT AT THE TIME HE WAS SHOT. I WAS EATING MY DINNER & HE WAS READING A LETTER. THE SHELL EXPLODED QUITE HIGH IN THE AIR. THE PIECE JUST GRAZED ME & TOOK HIS ARM. IT WILL TAKE HIM OUT OF THE SHOW FOR THIS CAMPAIGN.
MAJ. DAGGETT WAS KNOCKED DOWN LAST EVENING BY A TWELVE-POUND SHELL WHICH DID NOT EXPLODE, A VERY RARE OCCURRENCE. HE IS BUT SLIGHTLY INJURED SO TO BE UPON DUTY TODAY. LT. PARADIS WAS WOUNDED QUITE BADLY THROUGH THE LEGS, BUT I THINK THE BONE IS NOT BROKEN.
IF THE THING GOES ON MUCH LONGER, I SHALL NOT HAVE AN OFFICER LEFT. THE COMPANIES ARE MOSTLY UNDER SERGTS. AT THIS TIME.
WE NOW LAY UNDER AND TO THE FRONT OF THE GUNS OF THE 5TH MAINE BATTERY COMMANDED BY CAPT. STEVENS. IT DOES ME GOOD TO HEAR THE SHELL & SOLID SHOT WHIZ OVER MY HEAD INTO THE ENEMY LINES. THIS IS ONE OF THE BEST AND STILL THE MOST UNFORTUNATE BATTERIES IN THE SERVICE.
I AM NOW WRITING UNDER FIRE. THE MINNIES ARE FLYING THICK AROUND ME BUT STILL MY NERVE IS STRONG, AND I THINK I WILL COME OUT ALL RIGHT.
I now have about one hundred musket in my Regt. as quite a number has returned from (the) hospital who left while at camp & some of the batteries. So it keeps my numbers about the same. I have lost so far one hundred & forty-five, and only one is a prisoner that I know of and that is Orin Brown (captured 5-29-63).
I have wrote a letter which is now in my portfolio back with the horses. I hope I may get that letter to send with this as I have left out much here. I would hear say that THE WILSON MARE IS ABOUT THE SAME. THE BALL IS IN HER & IT MAY LAME HER FOR LIFE, BUT I SHALL TRY TO KEEP HER ALONG.
The letters which is back will explain all. I am happy to say in this that I have got my underclothes up, that I have put on a clean shirt. THE ONE I TOOK OFF I HAD WORN SINCE THE FIRST DAY OF MAY. ONLY THINK A COL. WEARING A SHIRT FIVE WEEKS WITHOUT CHANGING, BUT I AM NOT THE ONLY ONE.
I WILL HERE PUT IN AN INCIDENT WHICH IS NOT AN EVERYDAY OCCURRENCE. WE HAD A HARD FIGHT AT THIS PLACE WEDNESDAY NIGHT AND DROVE THE REBELS FROM THEIR PIT & TOOK MANY PRISONERS. THURSDAY MORNING WE ADVANCED AGAIN, AND IN TAKING CARE OF THE WOUNDED, I FOUND LT. COL. MURCHISON (JOHN REID MURCHISON) OF THE 8TH N. C., A BROTHER OF THE COL. MURCHISON (KENNETH MCKENZIE MURCHISON, 54TH N. C. INFANTRY) WHO SURRENDERED TO ME AT RAPPAHANNOCK STATION. I HAD HIS WOUNDS PROPERLY TAKEN CARE OF AND SENT HIM BACK TO OUR DIV. HOSPITAL OF WHICH HE WAS VERY THANKFUL TO ME FOR.
WHERE I NOW AM WRITING THE DEAD REBELS LAY THICK. I HAD MANY OF THEM COVERED OVER WITH A THIN SPRINKLING OF EARTH AS THE STENCH IS AWFUL TO STAND & A SHORT DISTANCE FROM ME.
Upon the other side of the pit lies some hundred of our Conn. fellows who belonged to our Brig., the heavy artillery who I think I wrote you about in one of my last. It is beginning to rain & I must close and the mail goes at once. OUR BRIGADE HERE LOST ABOUT FIVE HUNDRED SINCE THIS MONTH COMMENCED, BUT THE MOST OF THEM ARE FROM THE CONN. REGT. Love to you all, Clark
Again, Edwards mentions that this letter is written on the battlefield with the Minnie balls flying!

Estimate $1,800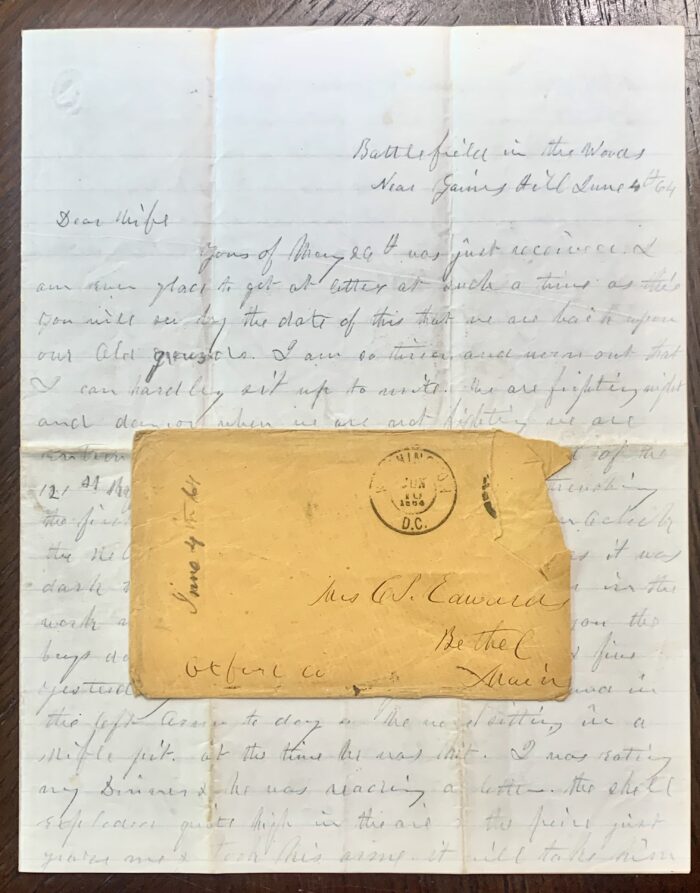 Please click image for photos of the June 4th, 1864 letter.


JUNE 12th, 1864: THE BATTLEFIELD OF COLD HARBOR – 6-PAGES IN INK WITH NICE STAMPED COVER
Battlefield at Cold Harbor, Va. Sunday June 12th, 1864.
Dear Wife, I presume you will feel surprised to receive a letter from me dated at this place. We arrived here the first day of this month and had a hard fight and since that time we have been fighting about all the time, that is this nasty picket fighting.
OUR LINES ARE SO NEAR THAT THE BOYS TALK WITH ONE ANOTHER. A FLAG OF TRUCE WENT OUT A DAY OR TWO AGO AND IT WAS QUIET FOR A SHORT TIME BUT NOW THE BULLETS ARE FLYING IN ALL DIRECTIONS.
I BELIEVE THE SHELL JUST HIT MY TENT BUT DID NOT EXPLODE. IF IT HAD, SOME OF US WOULD WENT UP. THE POWDER BLOWED OUT WITHOUT EXPLODING THE SHELL. I SHALL TAKE THE FELLOW HOME WITH ME. THAT IS, IF I CAN KEEP IT A LONG OR DO NOT GET HURT MYSELF. IT LAYS ON MY BLANKET BESIDE OF ME NOW, HOT FROM THE MORTARS WHICH SENT IT.
WITHIN THE LAST HALF HOUR, FOUR HAS HIT IN THE CAMP OF MY REGT. AND NOT ONE HAS DONE ANY DAMAGE. THEY ARE NOT SO DESTRUCTIVE AS THE SHELL FROM THE CANNONS. THE BOYS HAVE GOT SO THEY DO NOT CARE FOR ANYTHING IN THE WAY OF SHOT OR SHELL. THE ONE WHICH STRUCK SO NEAR ME HAS NINETEEN IRON GRAPE IN IT, PRETTY THING TO BE THROWING AROUND HERE A SUNDAY MORNING.
Well, I presume you wish to know what the prospect is of my getting home soon. I do not think we will get away much before our time is out. But we may get away to the rear the last of this week. One thing is sure. We have but one Sunday more to stop here in this Army.
ONE MONTH AGO TODAY WE HAD A HARD FIGHT IN FRONT OF SPOTSYLVANIA C. H. POOR JERRY MARTIN WAS KILLED THAT DAY. I HAD JUST FILLED HIS CARTRIDGE BOX WITH AMMUNITION AS HE HAD BURNT FIFTY ROUNDS. I TOLD HIM TO TAKE CARE OF HIMSELF. HE STEPPED BACK INTO HIS POSITION, AND I THINK DID NOT FIRE BUT ONE SHOT BEFORE A REBEL SHOT WENT THROUGH HIS HEAD AND HE DIED INSTANTLY. THE POOR MAN DIED A HERO. HIS LAST WORD TO ME WAS I WILL DO MY DUTY AND SURELY HE DID. NONE COULD HAVE DONE BETTER. I AM SORRY THAT HIS REMAINS LAID UNDER FOOT AS I WOULD SAY ALL THAT DAY AND AS NONE WERE BURIED FOR TWO DAYS AFTER, SO HE OF COURSE LAID ABOVE GROUND.
SOMEONE FROM BETHEL OR RUMFORD HAS INQUIRED IF HE HAD ANY MONEY ABOUT HIM AT THE TIME HE FELL. I WILL HERE SAY AT THE TIME HE FELL, HUNDREDS OF THE WOUNDED LAY AROUND US THAT COULD NOT BE TAKEN CARE OF, MUCH LESS THE DEAD. IT WAS A TIME THAT EVERY MAN WHO WAS ABLE TO HOLD A MUSKET HAD TO DO HIS DUTY. IT WAS AT THIS PLACE THAT I WROTE YOU THAT I SAW THE DEAD & WOUNDED OF THE REBS FIVE DEEP. I DONE THE HARDEST DAYS WORK HERE THAT I EVER DONE IN MY LIFE. I NOT ONLY GAVE ORDERS, BUT I CARRIED AMMUNITION, HELPED TO PUT IN POSITION FIELD PIECES, CARRIED GRAPE & CANISTER AFTER THE BATTERY BOYS WERE ALL SHOT DOWN.
YOU SAY TO THE FRIENDS OF MARTIN THAT ALL WAS DONE THAT COULD BE AT SUCH A CRITICAL TIME. HE WAS BURIED BY THE BOYS OF CO. I THE SECOND DAY AFTER HE WAS KILLED, AND IF HE HAD ANY MONEY OR VALUABLES ABOUT HIS PERSON, THEY WERE TAKEN FROM HIS POCKET BY STRANGERS.
AT THIS MOMENT, ONE OF THE 2ND CONN. FROM OUR BRIGADE IS BROUGHT IN UPON A SHELTER TENT, SHOT DEAD BY A SHARP SHOOTER. FOUR OF HIS COMRADES HAS BROUGHT HIM FROM THE SKIRMISH LINE TO BURY NEAR THE GRAVES OF OTHERS OF HIS COMPANY. ONE IS FOLLOWING WITH A SPADE UPON HIS SHOULDER TO DIG A HOLE TO PLACE THE REMAINS OF ONE WHO WITHOUT DOUBTS LEAVE NEAR & DEAR ONES AT HOME TO MOURN HIS LOSS. STILL BUT LITTLE NOTICE IS PAID TO ONE OR EVEN FIFTY. ONE OF THE NUMBER WHO IS BURYING THE POOR FELLOWS HAS JUST CALLED UPON ME FOR A LITTLE PIECE OF BOARD TO PUT AT THE HEAD OF THE POOR MAN. THEY ARE NOW ABOUT TO LAY THE REMAINS IN IT. LAST RESTING PLACE. THEY ARE BUT A FEW FEET FROM MY HEAD QUARTERS, BUT I WILL NOT DWELL LONGER UPON THIS BUT SPEAK OF SOMETHING ELSE.
You need not write anymore after you receive this, as I presume we shall be upon our way home by that time. I will telegraph to you in regard to coming (to) Boston to meet us upon our return. I hope we will get off safe after going through all we have since leaving Maine. I am well but sort of jacked out. We get but little rest where we now are as shell & shot are flying around us at all time of day & night.
NO ONE IS SAFE FOR A MOMENT. I CAN SEE AT ALMOST ANY TIME SOMEONE BEING TAKEN TO THE HOSPITAL WOUNDED OR TO THE LAST RESTING PLACE.
The same as when I last wrote you. I will write you if anything turns up new. Please give my regard to all. Remember me to Dr. T. L. Rife. Love to Aunt & all for the good folks. Kiss the little one for me. Yours, Clark
A superior battle letter with the graphic details that Edwards is known for.

Estimate $3,000+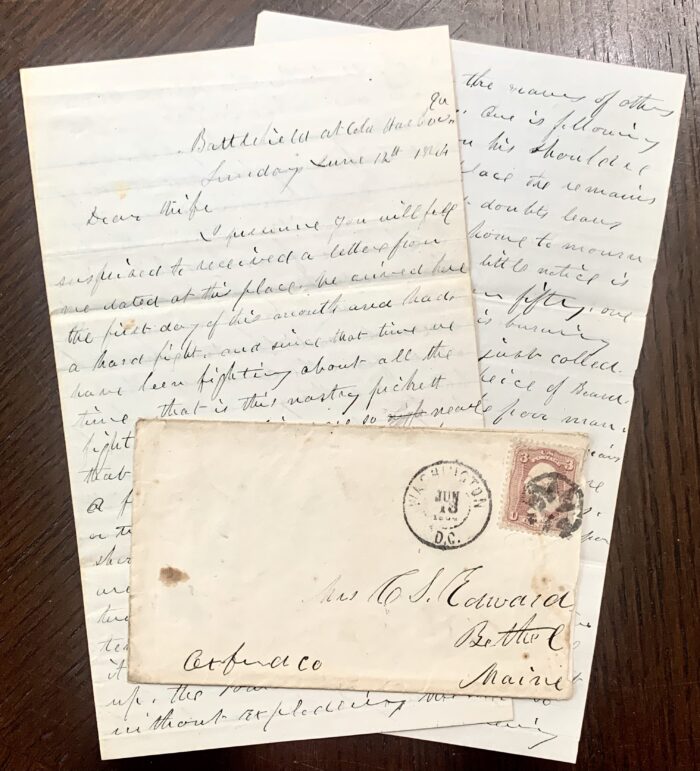 Please click image for photos of the June 12th, 1864 letter.



Estimate of all 10 Letters + Map = $21,350+
Our Price to the University or Advanced Collector
$15,000