Private John M. Hammond of the 44th New York Infantry (Ellsworth's Avengers) Writes on a Piece of Captured Confederate Patriotic Stationery – Yorktown, Va. May 18, 1862 & Mentions the LAND MINES THE CONFEDERATES HAVE BURIED IN THE GROUND! – He Would be Killed 2 Months Later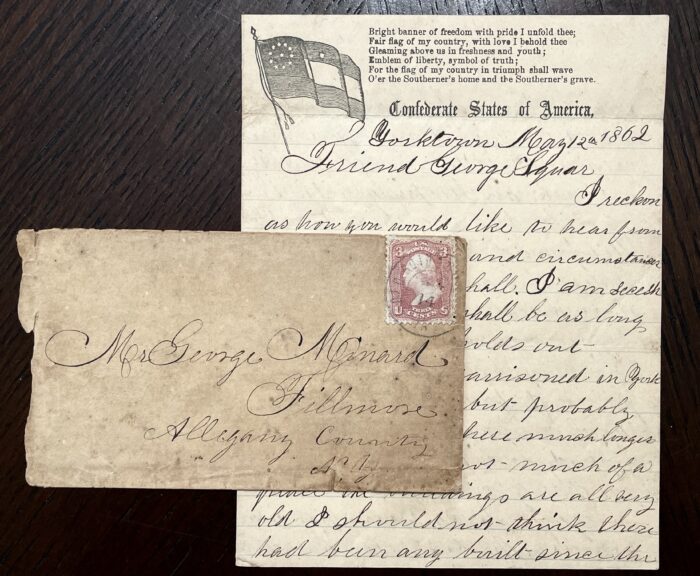 This 4-page letter on 5 x 6 ½ inch stationery has the engraving of an 11-star Confederate flag at the top with "Confederate States of America" and a 6-line patriotic verse, "Bright Banner of Freedom". The letter is written in nice dark ink and is headed, "Yorktown May 12th, 1862". It comes with its original stamped envelope. John M. Hammond enlisted on August 19th, 1861 at the age of 19. After routine camp duties in the remainder of 1861, the 44th New York left for Yorktown, Virginia and arrived on April 1st. At the time this letter was written, they were garrisoned at Fort Magruder. It was at Yorktown that the Confederates first employed deadly land mines… and this letter mentions them! Here is the content:
Yorktown May 12th, 1862. Friend George Square, I reckon as how you would like to hear from me about now and circumstances permitting, you shall.
I AM SECESH AT PRESENT AND SHALL BE AS LONG AS MY PAPER HOLDS OUT.
The 44th Regt. is garrisoned in Yorktown at present but probably will not stay here much longer. Yorktown is not much of a place. The buildings are all very old. I should not think there had been any built since the Revolution. They have destroyed about half that were here which makes the place look desolate enough in keeping with the whole of the Southern territory.
We found lots of flour, sugar, sultries, salt, etc. here in the store houses which we appropriate to our own use, and you can imagine that we know how to improve it from what I have written of our past fare.
WE ALSO FOUND A LITTLE TRINKET BURIED IN THE GROUND THAT WAS NOT SO AGREEABLE AS WARM PANCAKES. YOU HAVE PROBABLY SEEN AN ACCOUNT OF THEM IN THE PAPERS. THERE HAS NOT BEEN ANY OF OUR REGIMENT BEEN HURT BY THEM, AND I GUESS WE HAVE THEM ALL DUG UP NOW.
The weather is uncomfortably warm here, but it is made endurable by the breeze which comes up the river. Trees are all leaved out, and grass where it has not been tramped down is knee deep.
We are having things lovely here, only two of us in a large wall tent that formerly held a dozen, and then we have good beds and tables, chairs, etc.
I have been about half sick along back but am well again today and able to do duty, and have got to go on guard at 9 o'clock. It is half past 8 now, so I have not much time to spare in writing.
Tell Charlie Daniels if he has got back to Whitbeck's that I am expecting a letter from him and have been for the last six months. The same with Sam Farman. Give my best wishes to all your people. Answer soon. Hoping this will find you well and kicking. I remain your humble servant & friend, J. M. Hammond
The letter is in fine condition and a great one for display of captured stationery… perhaps also put a picture of one of the Confederate land mines with it.
#L5-18-1862NY – Price $695