The Finest Kennesaw Mountain Battle Letter We Have Seen – Lieut. Frank B. James of the 52nd Ohio Infantry Writes Home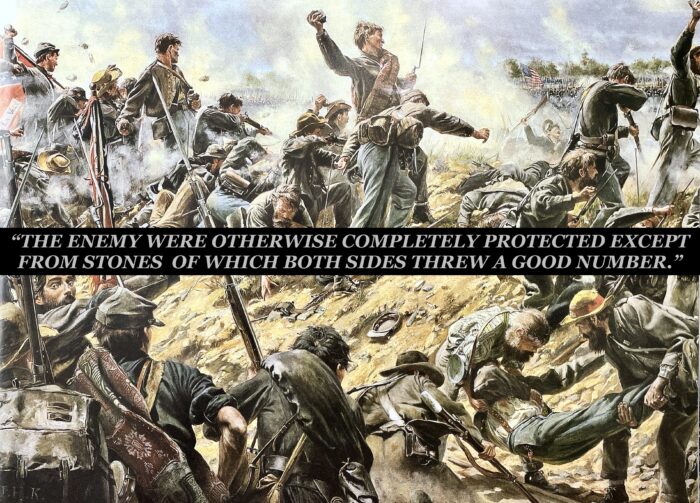 Frank Blakewell James was a member of Company K of the 52nd Infantry. In this letter he writes to his father 8-pages in nice blue ink. Here is the content:
IN WORKS NEAR MARIETTA GA. JULY 1ST, 1864. MY DEAR FATHER, I HAVE AN OPPORTUNITY TO WRITE YOU A SHORT ACCOUNT OF OUR LATE FIGHT ON THIS HILL, THO TO TELL YOU THE TRUTH, I AM IN NOT A VERY GOOD CONDITION TO DO SO, BEING VERY NERVOUS & TIRED AS I HAVE NOT SLEPT 12 HOURS IN THE LAST 4 DAYS & NIGHTS.
We lay opposite Kennesaw Mt. & at 9 P.M. of Saturday 25th marched all night & until after daylight on Sunday morning to within say 2 miles of this place, camped, drew rations, got a little rest that day & very early of morning of 27th/Monday/ were aroused, got breakfast & stripped for our desperate undertaking, the men lacking everything but canteens & haversacks.
Moved out & got into position & everything ready & at the appointed hour 9 A.M. word forward was given & two Brigades of our division, Mitchel & McCooks, in column of Regt's started forward in line.
Harken's Brigade 4th Corps was on our left & Mitchel on the right. Our Brigade was 5 lines deep, 52nd in rear or fifth line.
JAMES AT THIS POINT SKETCHES A SMALL MAP OF THEIR POSITION.
The ground over which we passed was of this description, viewing it with face to south. A. Rebel front main line works. B. Ditch & Abattis, also where we lay under their fire. C. Heavy line Rebel skirmish pits. (Between C & B Dense woods.) D. Creek several channels, marshy. E. Rebel pits taken by our men & used after remodeling as skirmish pits. F. Our main line (open field between E & F.) The distance from A. to F. is a good quarter of a mile.
SO GREAT A SPACE OF OPEN GROUND TO BE PASSED OVER COULD NOT ALLOW THE REBELS TO BE SURPRISED. THEY WERE READY FOR US & PROVED THE LEAD IN THICKER & THICKER…
…AS WE ADVANCED UPON THEM, THEY OPENED UP WITH CANISTER. HAVING TO PASS SUCH BAD GROUND AS THE CREEK MENTIONED, OUR LINES WERE BROKEN A LITTLE.
THE REBEL SKIRMISHERS AT FOOT OF THEIR HILL, TOOK ADVANTAGE OF THIS & PLIED THEIR SHOT ACCORDINGLY.
ON UP THE HILL, WE RUSHED & AS WE NEARED TO TOP WE MET COL. MCCOOK COMING BACK WOUNDED & WITH HIM CAME DISASTER, FOR REELING FROM THE SHOCK, GROUPS & COMPANIES OF MEN WERE RUSHING DOWN THE HILL, BREAKING THROUGH OUR LINE & MAKING FOR THE REAR.
Still the men closed up again, behaving wondrous well under such discouraging circumstances. In this manner in a great deal less time than it takes me to tell it.
From being in 5th line & in rear, we found ourselves on top of the hill & in front. OUR MEN GOT UP TO THE ABATTIS SOME FOUR & FIVE FEET FROM WORKS IN LINE RANGING FROM THIS TO 20 FEET. THE MEN LAY DOWN & BEGAN FIRING UPON THE ENEMY. WHICH TO DO ANY EXECUTION MUST BE THROUGH BETWEEN THE TWO TOP LOGS, A SPACE OF SAY 5 INCHES FOR SHOOTING THROUGH.
THE ENEMY WERE OTHERWISE COMPLETELY PROTECTED EXCEPT FROM STONES OF WHICH BOTH SIDES THREW A GOOD NUMBER.
The Brigade of Mitchell on right falling back brought a heavy flank fire on the right of our line which was obliged to fall back in conformity with the Brigade of right. The center left of our line was not driven back an inch. Our Regt. received a good deal of praise from General Davis for its part of the affair, & it is perfectly understood that if the others had stood their ground, the works would have been ours.
Our loss was some 85 or 7. Other of the Regt's losses were heavier which occurred from fact that they ran back & the Rebels emboldened, got up & fired more deliberately & better aim at them.
Cols. McCook & Clancy were both wounded, former in shoulder, latter twice in leg & side. Col. Harmon 125th III. was killed. Capt. Fellows (William W. Fellows), Inspector Genl. on Col. Mole's staff killed. Genl. Harker of Brigade on our left was killed. MY OWN LOSS IN COMPANY IS 2 KILLED, 7 WOUNDED OR 9 OUT OF 31 GUNS GOING IN, LITTLE LESS THAN ONE THIRD & OH! IN WHAT A SHORT TIME!
After the firing had nearly ceased, the Brigade formed in our rear & we fell back to our former position as rear line. So out of the several assaulting points along the line, OUR BRIGADE WAS ONLY ONE THAT HELD THE GROUND IT REACHED.
The lines are about the distance from house to house across 4th St. apart. By morning we have extended the line & have a line now for Regt. or more 10 feet closer than yesterday morning & are going ahead ala Vicksburg.
ON 29TH HAD A FLAG OF TRUCE TO BURY OUR DEAD, THE REBELS MAKING THE FIRST OVERTURE. I TOOK OPPORTUNITY OF CONVERSING WITH SEVERAL OFFICERS. Saw one Lt. Chapman of Nashville on Cheatham's staff who has just come from Virginia. He says he heard of Uncle Sea lately. He was well. It seems he (Sea) had been a prisoner & had just been exchanged. I sent a letter to both Uncle Sea & Alex by the flag requesting the answer to be sent by next flag to me for Grandma.
I placed Chapman under obligations to me but taking a letter for his mother in Nashville & therefore trust he will see to the delivery of those I gave him. I SAW GENL. HINDMAN, CHEATHAM, TERRILL, MANY & ONE OTHER THAT I TOOK TO BE JOHNSTON, THO NONE OF THEM WOULD TELL WHO HE WAS, SIMPLY SAYING HE WAS NO GENL.
The Brigade lost in all on that day over 400 in killed & wounded. My men are nearly all seriously wounded & I will lose them to the Co. My 1st Sergt. was struck in the head just over forehead, ball grazing around under the skin & out on top of head.
ONE POOR FELLOW WAS STRUCK IN BREAST & TURNED TO ME. I SAID "HURRY DOWN THE HILL," AT THAT MOMENT A BALL ENTERED BACK OF HIS HEAD & HE FELL HEADLONG AT MY FEET DEAD.
ONE OTHER WAS SHOT IN MOUTH, "CHUBB" HINES (CHARLES HINES, CO. K), BALL COMPLETELY CUTTING HIS TONGUE OUT & GOING DOWN HIS THROAT TO LUNGS & HEART. HE WAS NOT KILLED IMMEDIATELY, LIVED 2 DAYS.
That night we threw up trenches & have the hill now full of them. JUST AT DUSK WHILE LAYING AT FOOT OF HILL, A BALL CAME DOWN, GLANCED FROM A LITTLE TREE, FOOT FROM MY BACK & CAME "THUD" CUTTING THROUGH MY OVERCOAT BUT NOT INTO THE SEAM OF MY PANTALOONS. THE ONLY HARM WAS A LITTLE BRUISING.
My poor little Company are all brave men, & I could ask nothing better for them. We are all very much fatigued from watching & waiting for the enemy for it is supposed he will try to push us back as we are on apex in their line & nearest to Marietta.
Rebel accounts of the fight say we were 15 columns deep & drunk. This I know not to be so. Anderson was very weak & in hospital was unfortunately told of the anticipation fight & would come tho he could hardly walk. He is a great deal better now & going about.
We got a few prisoners & a number of deserters when the charge was made. I received papers of 23rd & last letter received was from Mother 19th or 14th, I don't know which.
We had quick fight last night & night before at about same time 2 1/2 A.M. amounting to very little loss on either side. Something seems to have favored us for since the fight, we have been able to buy mackerel, dried apples & peaches, condensed milk, canned tomatoes, & kraut, etc. from the community. So we are kept well fed if we do have to stay awake all the time.
I've not heard from you on those affairs of mine lately. Has Uncle Charles written you yet? I did not know Anderson had an opportunity of telegraphing or should have sent a message myself. I of course could not leave my company. I hope his dispatch will ease your minds. Well, I must stop. I am so nervous. I have had to stop several times & as there is a lull, I will lie down & try & sleep. Love to mother & the children & all friends. God has graciously spared my life this time. I hope I may live to see you all again. Please let Miss A see this. I can write no more tonight. Love to all, good bye, your dutiful son, Frank
At the beginning of the letter Frank's father has written: "Charge of McCook Regt. & Brigade at Kennesaw Mt. June 27, 1864." He also wrote at the conclusion of the letter on page 8: "A letter from F. B. James, 52nd Ohio to Daniel James."

Minor faults. One tiny hole not affecting any words. The most spectacular Kennesaw Mountain letter we have ever read. In the section of the Time Life Book, Standoff at Kennesaw Mountain, James is quoted "To Lieutenant Frank B. James of the 52nd Ohio 'The air seemed filled with bullets, giving one the sensation experienced when moving swiftly against a heavy wind and sleet storm.'"

#L7-1-64OH – Price $1,795