4-Page ALS from Sgt. Gustave Werner, 95th Pa. Infantry.  A Fascinating Letter Describing His Men Meeting the 15th Mississippi to Talk & Trade!  Read this Exciting Letter!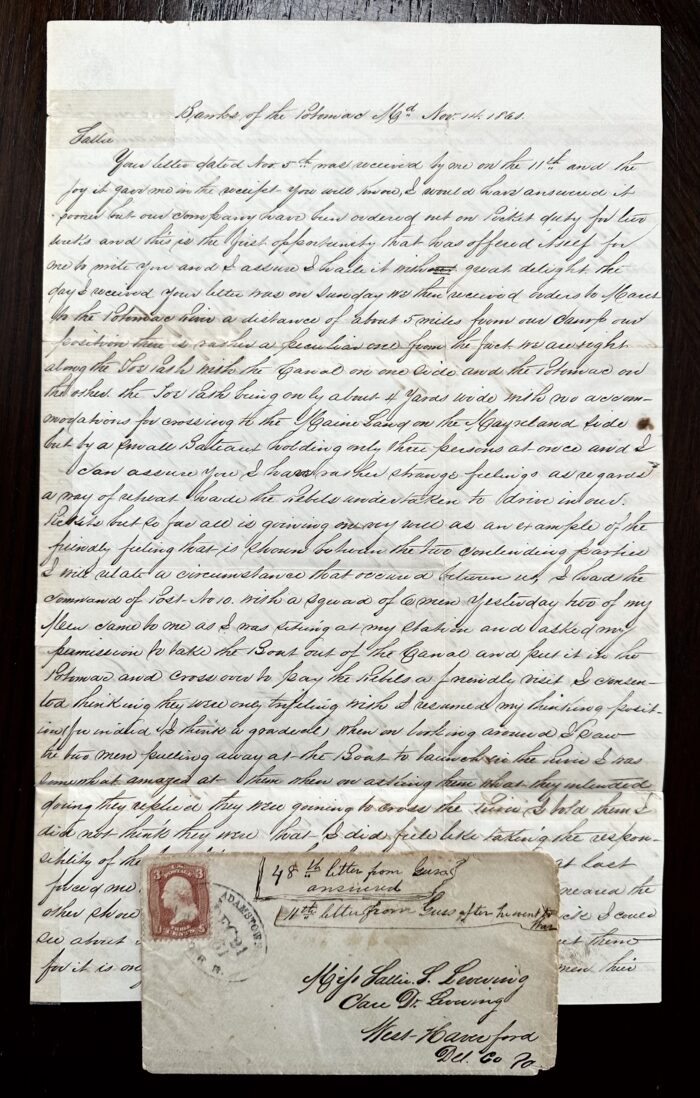 This letter is written on 4-pages of LEGAL size paper… its long!  It also comes with its original envelope and has a scarce "Adamstown R.R." cancelation.  The cover's date does not match the letter (it's a month later), but is nice for display.  It probably got separated in a group of letters.  The cover is addressed to Miss. Sallie S. Levering in West Haverford, Pa. who was a close friend. 

As "Gus" (the way he signs the letter) writes, he is in charge of Company B of the 95th PA. Infantry.  There is a great "heading" on this letter: "Banks of the Potomac, Md. Nov. 14, 1861".  Here is the significant content:
Sallie, Your letter dated Nov. 5th was received by me on the 11th, and the joy it gave me in the receipt, you well know. I would have answered it sooner but our company have been ordered out on picket duty for two weeks and this is the first opportunity that has offered itself for me to write you, and I assure I hail it with great delight.
The day I received your letter was on Sunday. We then received orders to march to the Potomac River, a distance of about 5 miles from our camp. Our position here is rather a peculiar one from the fact we are right along the toe path with the canal on one side and the Potomac on the other, the toe path being only about 4 yards wide with no accommodations for crossing to the Main Land on the Maryland side but by a small Bateau holding only three persons at once, and I can assure you I have rather strong feelings as regards a way of retreat, had the Rebels undertaken to drive in our pickets, but so far all is going on very well…
…AS AN EXAMPLE OF THE FRIENDLY FEELING THAT IS SHOWN BETWEEN THE TWO CONTENDING PARTIES. I WILL RELATE A CIRCUMSTANCE THAT OCCURRED BETWEEN US. I HAD THE COMMAND OF POST NO.10 WITH A SQUAD OF 6 MEN. YESTERDAY TWO OF MY MEN CAME TO ME AS I WAS SITTING AT MY STATION AND ASKED MY PERMISSION TO TAKE THE BOAT OUT OF THE CANAL AND PUT OUT IN THE POTOMAC AND CROSS OVER TO PAY THE REBELS A FRIENDLY VISIT. I CONSENTED THINKING THEY WERE ONLY TRIFLING WITH. I RESUMED MY THINKING POSITION FOR INDEED I THINK A GOOD DEAL, WHEN ON LOOKING I SAW THE TWO MEN PULLING AWAY AT THE BOAT TO LAUNCH IN THE RIVER. I WAS SOMEWHAT AMAZED AT THEM WHEN ON ASKING THEM WHAT THEY INTENDED DOING, THEY REPLIED THEY WERE GOING TO CROSS THE RIVER. I TOLD THEM I DID NOT THINK THEY WERE, THAT I DIDN'T FEEL LIKE TAKING THE RESPONSIBILITY OF THE LOSS OF TWO MEN, BUT THEIR EARNEST ENTREATIES AT LAST FORCED ME TO CONSENT. THEY AT LAST STARTED AND AS THEY NEARED THE OTHER SHORE, WITH A WHITE HANDKERCHIEF PINNED TO A STICK. I COULD SEE ABOUT 50 OF THE REBELS COME DOWN TO THE SHORE TO MEET THEM, FOR IT IS ONLY ABOUT 200 YARDS ACROSS. THEY GAVE OUR TWO MEN THEIR HANDS, LED THEM UP THE BANK, FASTENED THEIR BOAT AND WALKED AWAY WITH THEM OVER THE HILL. IT WAS FULL ONE HOUR BEFORE THEY APPEARED, AND I BEGAN TO FEAR THAT I HAD DONE WRONG IN CONSENTING TO THEIR ABSENCE, WHEN TO MY DELIGHT THEY CAME IN SIGHT, STEPPED INTO THE BOAT, LEFT THE ONE OF MY MEN OVER THERE AND BROUGHT 2 OF THE MEN BACK, BELONGING TO THE 15TH MISSISSIPPI REGIMENT. OF COURSE, WE GAVE THEM AS GOOD A RECEPTION AS WE COULD, TALKED TO THEM FOR ABOUT 1 HOUR WHEN THEY WENT BACK AND WE BROUGHT OUR MAN OVER. ONE OF THEM REMARKED THAT HE HOPED WE WOULD ALL MEET ON MORE FRIENDLY TERMS SOME TIME SOON. I REMARKED I HOPE SO. I HAVE TOLD YOU THE FIRST AND ONLY CIRCUMSTANCE OF ANY NOTE OF MY FIRST PICKET EXPEDITION.
I have just received orders from the Capt. to put a man under arrest. He gave impertinence this morning and I have now orders to confine him to the Guard House for 24 hours. It is the first man I have had arrested since I have had anything to do with the men. The Corporal is now waiting for my orders. I must go. At last the disagreeable duty is performed and the poor fellow's liberty taken from him. He pled very hard for a pardon, but I was determined to be resolute. It is not the first time he has acted so towards me. I intend though in about 6 hours to ask for his release. I know I can get it for Capt. Ford has got the first time yet to refuse me a favor of any kind, for I can assure you he thinks a great deal of me.
You ask me for a description of camp life. What I do when I go to bed and when I get up. Well, I will tell you. In the first place, Reveille beats at 5 o'clock in the morning. We have 1/2 hour to arrange our bunks, which I can assure you, there is not much to arrange. One hour's drill before breakfast that I do not fancy much for I have the drilling to do. Breakfast at 7 o'clock. Guard mounting at 8 o'clock. Dress Parade at 10 o'clock. Company drill from 11 till 12. Battalion drill from 3 to 5. Supper (for I cannot call it tea) at 6. Roll call at 9 and all must be in bed at 9 1/2 o.c. That is our daily routine of duties when we are encamped, but on a march, we have it much harder, being compelled to sleep out on the ground in all kinds of weather, but I have become used to that, as I have plenty of blankets. I have a trunk with me, so I do not have to trouble myself with carrying a knapsack. I have 5 large blankets and one India rubber one, so I do not suffer much with the cold. I often look at some of our poor fellows in the company at night when they lie down. They have nothing but one thin small blanket given them by the government. They sleep 6 in one tent that keeps them a little warmer. I have a tent to myself. I do not think I could get along 6 in a tent amongst our boys, and as regards my eating, I do not trouble the Government much for I generally take my meals around at the nearest farm house when we are in any civilized neighborhood. I believe I have told you all that can interest you, and now I will close and commence, looking and waiting for a letter from you. Time passes very slow when I am waiting to hear from you. With my regards to your Pa and Ma. I remain as ever, Yours affectionately, Gus. P. S. Direct your letters as usual.
The previous collector used quite a bit of document tape to enhance the folds… but the ink is nice and dark and it's the content we are after.   

#L11-14-61 PA – Price $325