Robert I. Johnson of the 1st Rhode Island Light Artillery Writes an Intriguing Letter from Fredericksburg in May of 1863 – THE FINEST, LONGEST DESCRIPTION OF TRADING WITH THE ENEMY THAT WE HAVE SEEN!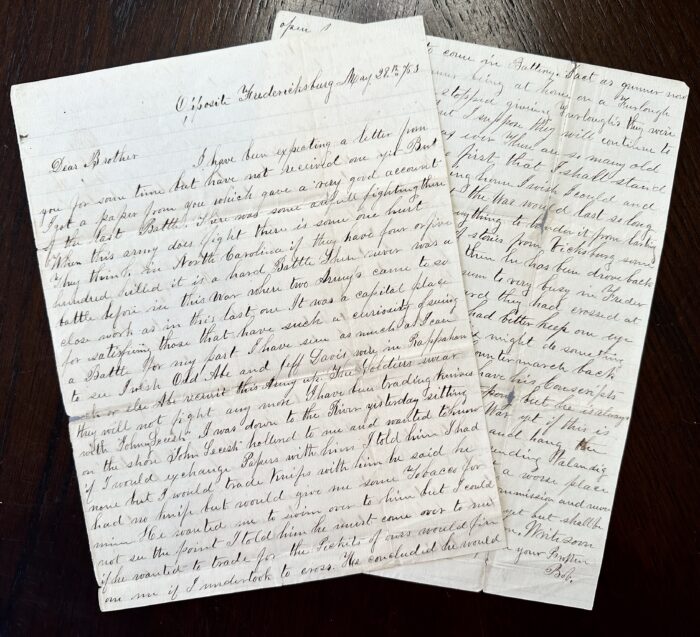 This 3-page letter written in beautiful penmanship comes in nice dark ink. Johnson (misspelled in the Civil War Database) is writing his brother back in Providence. Here is the content:
Opposite Fredericksburg May 28th /63. Dear Brother, I have been expecting a letter from you for some time but have not received one yet. But I got a paper from you which gave a very good account of the last Battle.
There was some awful fighting there. When this army does fight there is someone hurt. They think in North Carolina if they have four or five hundred killed, it is a hard battle. There never was a battle before in this war where two Army's came to so close work as in this last one.
IT WAS A CAPITAL PLACE FOR SATISFYING THOSE THAT HAVE SUCH A CURIOSITY OF SEEING A BATTLE. FOR MY PART I HAVE SEEN AS MUCH AS I CARE TO SEE.
I WISH OLD ABE AND JEFF DAVIS WERE IN RAPPAHANNOCK OR ELSE ABE RECRUIT THIS ARMY UP. THE SOLDIERS SWEAR THEY WILL NOT FIGHT ANY MORE.
I HAVE BEEN TRADING KNIVES WITH "JOHNNY SECESH." I WAS DOWN TO THE RIVER YESTERDAY SITTING ON THE SHORE. "JOHN SECESH" HOLLERED TO ME AND WANTED TO KNOW IF I WOULD EXCHANGE PAPERS WITH HIM. I TOLD HIM I HAD NONE, BUT I WOULD TRADE KNIVES WITH HIM. HE SAID HE HAD NO KNIFE BUT WOULD GIVE ME SOME TOBACCO FOR MINE. HE WANTED ME TO SWIM OVER TO HIM, BUT I COULD NOT SEE THE POINT.
I TOLD HIM HE MUST COME OVER TO ME IF HE WANTED TO TRADE FOR THE PICKETS OF OURS WOULD FIRE ON ME IF I UNDERTOOK TO CROSS.
HE CONCLUDED HE WOULD COME OVER AND TRADE WITH ME. I TOLD HIM TO GO UP THE OTHER SIDE OF THE BRIDGE SO THE PICKETS WOULD NOT SEE HIM. I WAS OUTSIDE OF THE LINE OF PICKETS THEN. I SAT DOWN IN THE BUSHES AND WAITED FOR HIM. HE LAUNCHED HIS PLANK AND CAME OVER.
I GAVE HIM MY KNIFE FOR HIS TOBACCO WHICH HE BROUGHT IN HIS HAT. HE SEEMED RATHER IN A HURRY TO GET BACK TO HIS FRIENDS. HE SAID THERE WERE A GREAT MANY WOULD SWIM OVER TO US IF THEY WERE SURE THEY WOULD NOT FIRE FROM OUR SIDE. I TOLD HIM THEY NEED NOT BE AFRAID OF THAT. HE MOUNTED HIS PLANK AND STARTED BACK AGAIN. AND I RETURNED TO CAMP.
May 29th We have just been out to drill. We drill 2 hours at Field Drill in the morning, and 2 hours Foot Drill in the afternoon every day except Saturday and Sunday. Saturday we have to ourselves to get ready for Inspection, airing our clothes and blankets, brushing our clothes, polishing belts AND THE CANNONS ON OUR CAPS and Boots Blacked.
Sunday at 10 o'clock we form in line for Inspection which lasts 2 hours and the rest of the day we have to ourselves to write homes. THE REBELS GET UP ON THEIR EARTH WORKS TO SEE US DRILL.
The way we go is anything but slow. We have a very good place to drill in front of our Earthworks, some 6 or 8 acres smooth and OUR HORSES ARE IN GOOD CONDITION AND THE DRIVERS EAGER TO DRILL ON THE GALLUP, MUCH TO THE DISPLEASURE TO THE CANNONIERS WHO RIDE ON THE BOXES WHICH GIVES US A DEVIL OF A JOLT WHEN WE STRIKE STONE OR A DITCH BUT HANG ON IS THE WORD AND KEEP YOUR EARS OPEN FOR THE ORDER TO COME IN BATTERY.
I ACT AS GUNNER NOW ON MY PIECE, THE GUNNER BEING AT HOME ON A FURLOUGH.
I hear that they have stopped giving furloughs. They were given until June. But I suppose they will continue to grant them the same as ever. There are so many old members that are to go first that I shall stand a slim chance of coming home. I wish I could and see the folks. I never thought the war would last so long as it has and I do not see anything to hinder it from lasting as long again.
We hear all sorts of stories from Vicksburg, some that Grant has taken it, and then he has been drove back again with heavy loss. The Rebels seem too very busy in Fredericksburg and yesterday we heard they had crossed at Kelley's Ford on our right. They had better keep one eye on Richmond for fear Gen. Dix might do something there that would cause them to countermarch back.
NOW IS THE TIME OLD ABE SHOULD HAVE HIS CONSCRIPTS READY TO REINFORCE DIX ON THE MATTAPONI, BUT HE IS ALWAYS BEHIND.
WE DON'T WANT TO SETTLE THIS WAR YET IF THIS IS HIS GAME. THE PEOPLE OUGHT TO RAISE AND HANG THE BUGGER. HE OUGHT TO BE KICKED FOR SENDING VALANDINGHAM SOUTH.
He could not send him to a worse place. If I were Burnside, I'd throw up my Commission and never try to do anything again. I am not a Rebel yet but shall be if they don't do something different pretty soon. Write soon and send me some Postage Stamps. From your Brother, Bob. Give my best wishes to Sue and Fred.
While the letter is just signed "Bob", we will include a copy of the closing of another letter that Bob wrote where he includes his last name (to provide positive I.D.).

This is no doubt the longest description of trading with the enemy that we have seen… a truly fascinating letter. 

#L5-28-63RI – Price $850