Major Rufus Dawes, Commanding the 6th Wisconsin Volunteers Made Recommendations for Promotion – Written on Beautiful Wisconsin Stationery, the Military Secretary Writes Him Back…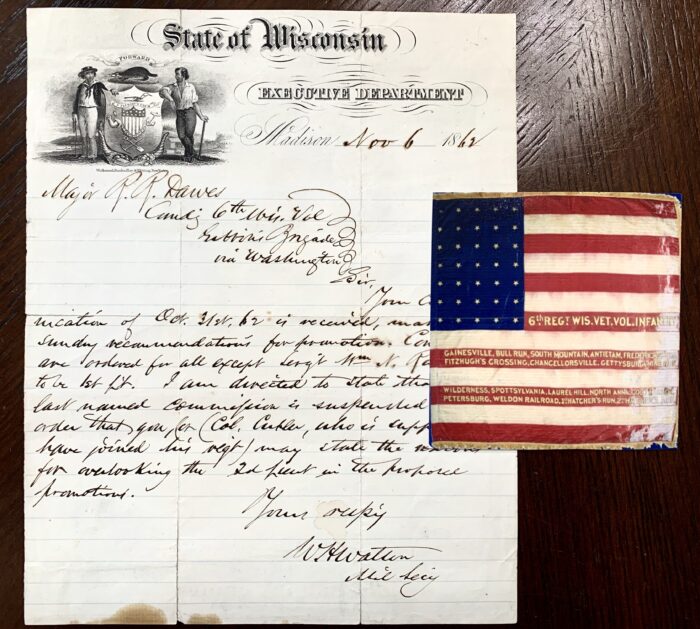 This 1-page document dated November 6th, 1862 is headed Madison, Executive Department. The Military Secretary writes the following:
State of Wisconsin
Executive Department
Madison Nov. 6, 1862
Major R. R. Dawes
Comdg. 6th Wis. Vol.
Gibbon's Brigade
via Washington
Sir,
Your communication of Oct. 31st, 62 is received, making sundry recommendations for promotion. Commissioned officers are ordered for all except Serg't. Wm. N. Remington to be 1st Lt. I am directed to state that the last named commission is suspended in order that you, (or Col. Cutler who is supposed to have joined his Regt.) may state the reasons for overlooking the 2nd Lieut. in the proposed promotions.
Yours respectfully,
W. H. Watson
Mil. Sec'y
It is interesting that William N. Remington was not approved. Actually, according to the Civil War Database, he did make 1st Lieutenant on October 22nd, so Dawes must have had his way. Remington would go on to be wounded twice, first at Gettysburg and then Laurel Hill.

A colorful 1-page document concerning a famous regiment. Frame it up with a picture of their battle flag (that we provide).

#L11-6-62WI – Price $195