I.D. Disc or "Dog Tag" from the Famous 2nd New York – Harris Light Cavalry – George P. Gantz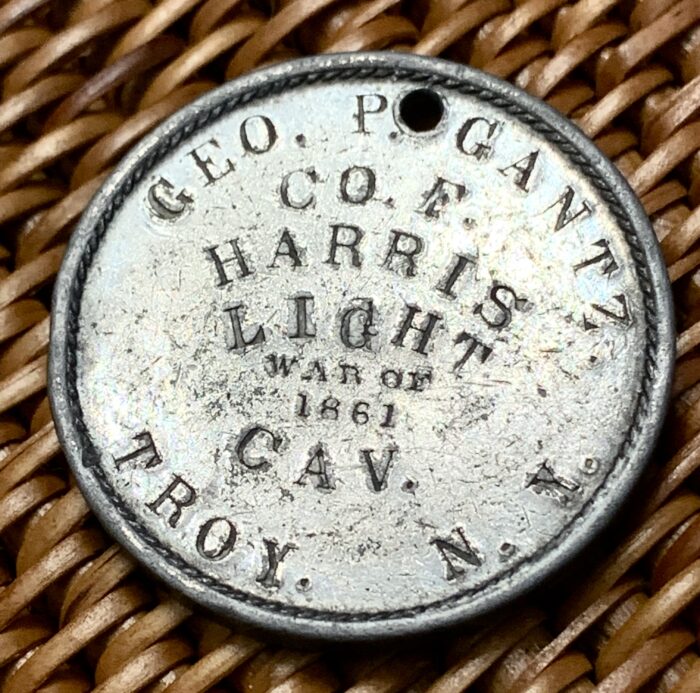 This Washington style silver plated pewter I.D. disc still retains a beautiful patina and is in excellent condition. George P. Gantz enlisted at Troy, New York in August of i86i serving the entire war mustering out in June of 1865.

THE 2nd NEW YORK CAVALRY HAS AN UNBELIEVABLE 271 LINES LISTED IN THE DATABASE (SKIRMISHES AND BATTLES WITH CASUALTIES). They were heavy hit especially at the battle of Aldie, Virginia in the start of the Gettysburg Campaign (June 17th, 1863, Middleburg, Gettysburg, and at the end of the war Five Forks).

On the front of the I.D.:
GEO. P. GANTZ
CO. F
HARRIS
LIGHT
WAR OF
1861
CAV.
TROY, N.Y.
Also included is the book, Three Years in the Federal Cavalry, which is the story of the 2nd New York Cavalry written by Willard W. Glazier. 

#A624NY – Price $2,495