Letter Describing One of the Last Battles in the Civil War – April 9th, 1865 the Battle of Dingle's Mill in S.C. (The same date that Lee was surrendering at Appomattox C. H.) – Jonathan E. Pillsworth, Co. A, 56th New York Infantry Describes the Action.  They fought along with the famous 54th Mass. Black Regiment!  You have got to see the photo of the politically "incorrect" historical marker we found!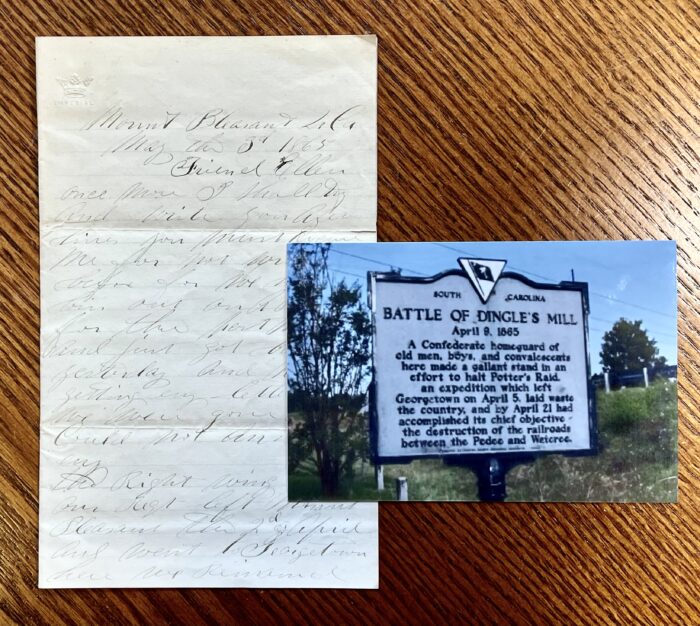 Pillsworth didn't enlist until August 10th, 1864.  At age 19,  no doubt he just wanted to be patriotic and receive that nice blue uniform, after all he probably thought that the war could not last much longer.  The 56th New York Infantry however, was sent to South Carolina to assist in the end of Sherman's march to the sea.  Sherman desired that the railroads between Florence, Sumter and Camden be destroyed.  Union General Edward E. Potter assembled a provisional division called "Potter's Raiders".  A detachment of the 56th New York were part of it.  Sherman stated, "Those cars and locomotives should be destroyed if to do it costs you 500 men."  This raid was significant in the fact that a major portion of the men were COLORED TROOPS… including the 54th Massachusetts.  This was the Confederacy's last grand stand in the state of South Carolina, where the war had begun.  Here is the content:
Mount Pleasant, So. Ca. May the 3rd, 1865.   Friend Ellen,  Once more I shall try and write you a few lines. You must excuse me for not writing before for WE HAVE BEEN OUT ON A RAID FOR THE PAST MONTH and just got back yesterday, and not getting my letters while we were gone, we could not answer any.
The Right Wing of our Regt. left Mount Pleasant the 2nd of April and went to Georgetown. Here we remained a few days, long enough for to prepare for a long and tedious march which we found to be true before we got back, although we did not carry anything more than we could help, but when we are in light marching order, we have a heavy load consisting of gun belts, 60 rounds cartridges, rubber overcoat, canteen, and sometimes eight days rations, which make a good load on a warm day…
… we had to march about twenty-five miles per day, but I hope we shall not be called out on another expedition while we remain in this department. THIS HAS BEEN A VERY DESTRUCTIVE RAID AND RIGHT THROUGH THE HEART OF SOUTH CAROLINA.
We destroyed about a great amount of cotton, railroads, THIRTY-ONE ENGINES, THREE HUNDRED CARS LOADED WITH STORES OF ALL KINDS, BESIDES ALL THE HOUSES, BARNS, MILLS AND EVERYTHING ON OUR LINE OF MARCH.
THIS IS THE WAY WE DO BUSINESS DOWN IN THIS COUNTRY. We had some hard fighting on our way out, but our loss was not very heavy, and we arrived at Georgetown all right.
Georgetown is a very pleasant place situated on the Black River and about 70 miles from Charleston. You wanted to know when I was to step off. Well, I can soon answer that question. It will be when I cannot find anything else to do, and I do not think that will be very soon, but Nell, I like to hear from the girls as well as any one.
I commenced this letter this morning, but before I had it finished, was called out to go and find some Johnnies but found none. I will now close with my best wishes to all from your friend, J. E. P. (Jonathan E. Pillsworth) Co. A 56th Regt. N.Y. Vol. Mount Pleasant, So. Ca.  Write soon and tell me all the news.
Pillsworth would be mustered out of the service two months later in Charleston, S.C.  The only letter we have read describing this last battle…  and here is that photo of the historical marker about the "gallant" "old men, boys, and convalescents" who fought there. 

#L5-3-65NY – Price $395