Col. John S. Crocker of the 93rd New York Infantry Writes from Salisbury Prison in N.C. – Great Content Including being Forced to "Draw Lots" for Prisoners to be Placed as Hostages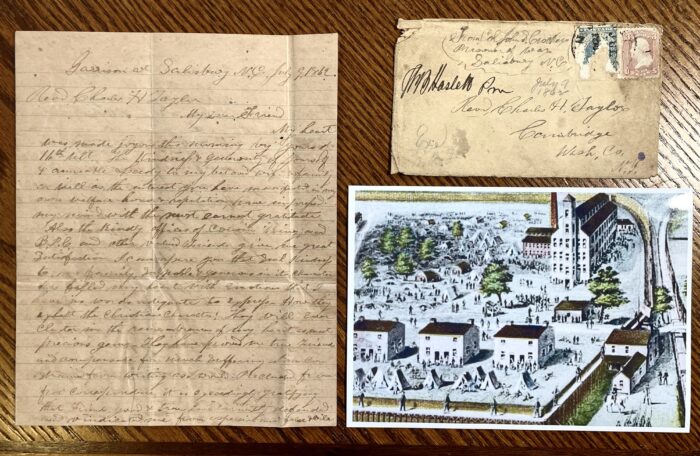 John Simpson Crocker, a resident of Albany, New York, enlisted in October 1861 as Colonel of the 93rd New York Infantry. In leading his men in the Peninsula Campaign, he was captured on April 23rd, 1862 at the battle of Yorktown, Virginia. He was sent to the Confederate Prison in Salisbury, N.C.

Crocker's letter is written on orange Confederate paper and comes with its original envelope… a rarity in itself. There is a wonderful I.D. at the top of the envelope: "From Col. John S. Crocker, Prisoner of War, Salisbury, N.C." There is both a Union (3 cent rose) and a Confederate stamp (1861 10 cent blue). Unfortunately, the Confederate stamp is only half there. The cover has been inspected (in pencil Ex. W. R. F.). It is also signed "W. B. Haslett PM" (who was Post Master Army of the Potomac). The cover is addressed to Rev. Charles H. Taylor, Cambridge, Washington County, N.Y.

Here is the content:
Garrison at Salisbury N. C. July 9, 1862. Revd. Charles H. Taylor My Dear Friend, My heart was made joyous this morning by yours of 16th ult. The kindness & generosity of yourself & amiable lady to my beloved wife & family will, as the interest you have manifested in my own welfare, honor, & reputation, have impressed my mind with the most earnest gratitude.
Also the kindly offices of Cousin King and B. P. C. and other valued friends give me great satisfaction. I can assure you that such kindness to my family, so noble & generous in its character, has filled my heart with emotions that I have no words adequate to express. How they exhalt the Christian character! They will ever cluster in the warm embraces of my heart as most precious gems. THEY HAVE PROVED ME TRUE FRIENDS AND COMPENSATE FOR MUCH SUFFERING.
I AM CONSTRAINED FROM WRITING AS I WOULD PRECLUDE FROM FREE CORRESPONDENCE, it is exceedingly gratifying that friends good & true have earnestly defended and vindicated me from aspersions most false & vile.
A DARK CLOUD HAD OVERSHADOWED MY COUNTRY WHICH I LOVE. GLOOMY WERE THE FOREBODINGS OF HER IMMEDIATE FUTURE. FEELING IT MY DUTY THOUGH A VERY HUMBLE CITIZEN, I WITHDREW FROM THE SOCIETY OF THEM AND DEAR TO ME THAN MY OWN LIFE AND ENGAGED IN HER SERVICE.
Of the manner in which i have performed the duties of my position, i leave for these who have served with me to speak. AT THE TIME OF OUR CAPTURE, MAJOR CASSIDY & MYSELF WERE PERFORMING A DANGEROUS AND WHAT I BELIEVED AN IMPERATIVE DUTY.
CONSCIOUS OF HAVING FEARLESSLY PERFORMED MY DUTY SO FAR AS HAS BEEN IN MY POWER THUS FAR, I ENDURE WITH COMPOSURE MY PRESENT SITUATION. FEELING MORE THAN EVER A DEVOTION TO MY COUNTRY, I HAVE A STRONG DESIRE TO BE AGAIN WITH HER SERVICES.
THERE ARE CONFINED HERE ABOUT 200 OFFICERS & SEVERAL HUNDRED PRIVATES & POLITICAL PRISONERS WHO BEAR THEIR IMPRISONMENT WITH NOBLE FORTITUDE & AS WORTHY SONS OF THE GREAT REPUBLIC.
THERE IS MUCH SICKNESS, MANY CASES TERMINATING FATALLY. My health is good. Major Cassidy is in good health. Col. Corcoran (of our mess) has been quite feeble, but is getting better health. Both of them are brave officers and excellent companions.
FOUR OF OUR NUMBER ARE CONFINED SEPARATELY AS HOSTAGES. YOU MAY WELL IMAGINE THERE WAS QUITE AN EXCITING SCENE WHEN LOTS WERE CAST AMONG THE OFFICERS FOR THE SELECTION OF THE HOSTAGES WHOSE LIVES WERE TO BE FORFEITED UNDER CERTAIN CIRCUMSTANCES WHICH I TRUST WILL BE AVERTED.
The glorious fourth was celebrated by the prisoners in a manner worthy of the occasion. The proceedings were quite interesting & will be published. Your humble servant. YOUR HUMBLE SERVANT WAS THE READER OF THE DECLARATION OF INDEPENDENCE.
WE HAVE A "UNION WAR PRISONERS' ASSOCIATION" TO BE CALLED "THE REGALE" WHICH BIDS FAIR TO BECOME A WORTHY & PROMINENT INSTITUTION. THERE ARE THREE CLERGYMEN (CHAPLAINS AMONG THE PRISONERS). ONE A MR. EDDY OF THE PRESBYTERIAN ORDER & A VERY TALENTED MAN. MEETINGS ARE HELD BY SOMEONE OF THOSE EVERY SABBATH.
LAST SABBATH THE COMMUNION WAS HELD IN A LITTLE GROVE WITHIN THE PRISON ENCLOSURE. I NEVER HAVE SEEN THE SACRAMENT ADMINISTERED UNDER MORE SOLEMN OR IMPRESSIVE CIRCUMSTANCES. THE SERVICE WARRING OF MANY BATTLES, OFFICERS & PRIVATES MEETING TOGETHER UPON THE GROUND, PROTECTED FROM A SCORCHING SUN BY THE SHADES OF THE STURDY OAK, WITH THEIR FAITH IN HIM WHO DIED FOR OUR SALVATION, PARTAKING OF THE ELEMENTS WAS A SCENE AT ONCE IMPRESSIVE & SUBLIME. I almost wished myself one of their number.
Glad Heaven may shield you & yours from dreary misfortune is the genuine hope of. Yours Truly John S. Cocker
Inside, page 2, at the bottom: I have received & replied to the letter from my wife of the 18th June. THIS POOR SHEET OF PAPER COST TEN CENTS.
Page 3 at the bottom: Please deliver two of those stamps to my wife. Say to Major Cassidy's friends that he has received letters from home & answered them.
Page 2, up the side: Much love to my family with affectionate regards to Mrs. Taylor.
[Note:  Letters were restricted to 3 pages at Salisbury and that is why Crocker did not write on his 4th page but added "extras" at the top!]

A rare piece of Confederate history, especially important describing "drawing lots" to see which men would become hostages and be shipped off to Charleston.

#L7-9-62 NY – Price $695