6th Wisconsin, Iron Brigade Letter Written by Lt. Col. Commanding, Rufus R. Dawes + Endorsements by Brig. Gen. Edward S. Bragg & Brig. Gen. Lysander Cutler!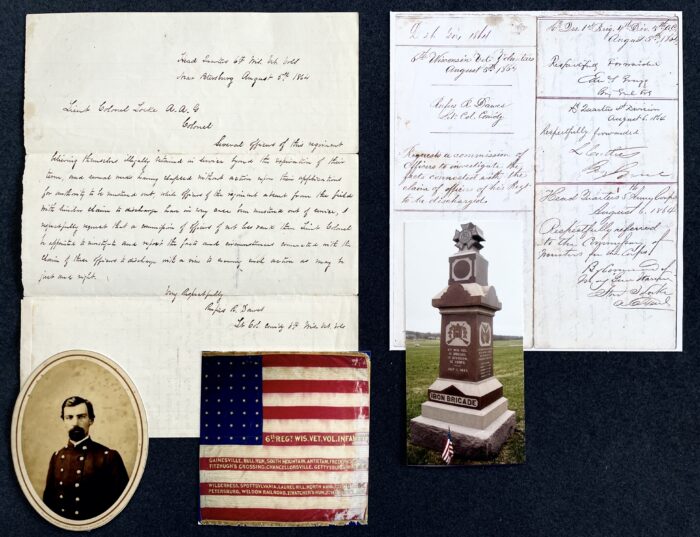 The history of Rufus Dawes, who led the 6th Wisconsin at the battle of Gettysburg, is legendary. While we have owned several endorsements, signed by Dawes over the years, this is the first full ALS we have had the opportunity of owning. The letter is 1-page and for the purpose of display, we have photographed the endorsements on the back. Here is the content:
Head Quarters 6th Wis. Vet. Vols.
Near Petersburg August 5th, 1864. 
Lieut. Colonel Locke A. A. G. 
Colonel, 

Several officers of this Regiment, believing themselves illegally retained in service beyond the expiration of their term, and several weeks having elapsed without action upon their applications for authority to be mustered out, while officers of the Regiment absent from the field with similar claim to discharge have in every case been mustered out of service, I respectfully request that a commission of officers of not less rank than Lieut. Colonel be appointed to investigate and report the facts and circumstances connected with the claim of these officers to discharge with a view to scanning each action as may be just and right.
Very Respectfully,
Rufus R. Dawes
Lt. Col. Com'dg. 6th Wis. Vet. Vols.
At the battle of Gettysburg, Dawes led a counter attack on Confederate General Joseph R. Davis's Brigade of Mississippians in the railroad cut forcing the surrender of more than 200 Confederate soldiers.  Prior to writing this letter, Dawes had been in the battle of the Wilderness and was now in the siege of Petersburg.  Dawes was a man who demanded faithfulness and fairness.  This letter was one of his last actions before he himself was mustered out on August 10th, 1864.  It was a letter very typical of Dawes, fighting for the rights of his men. 

In addition to the endorsements by Bragg and Cutler, there are several more.  A historic letter with the autographs of leaders from the famous Iron Brigade. 

#L8-5-64WI – Price $2,250