The 33rd Wisconsin Volunteers & the Fall of Vicksburg, Mississippi – Sgt. W. Jewett Likely: "THEY WERE LIVING ON MULES WHEN WE TOOK POSSESSION."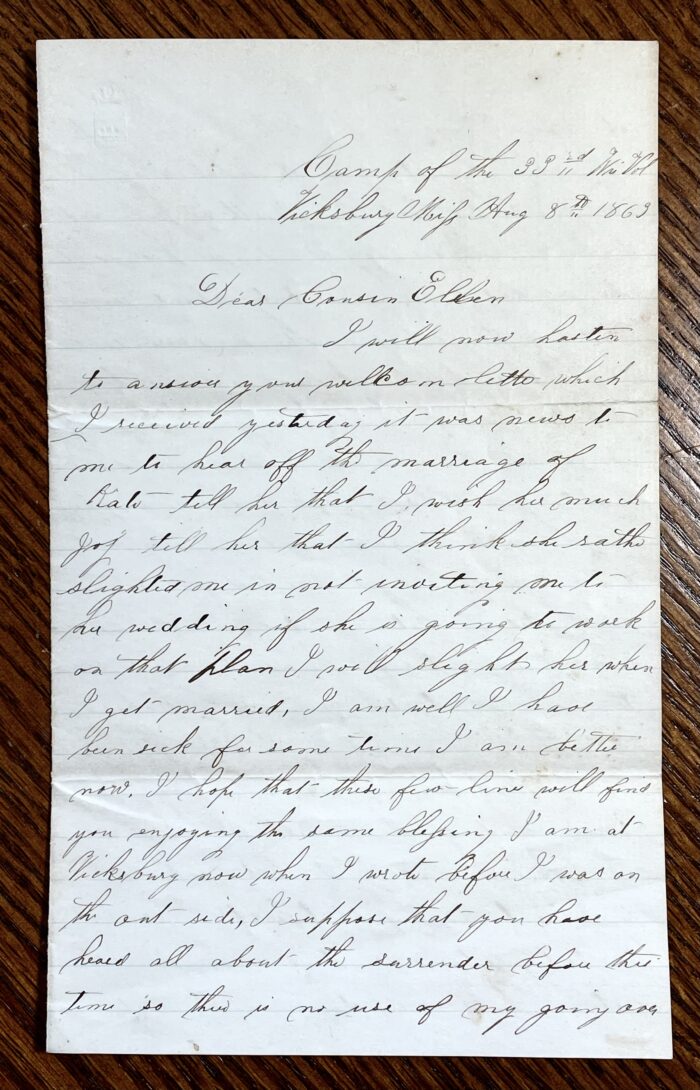 William Jewett Likely, a resident of Clyde, Wisconsin enlisted on August 8th, 1862 into Company A of the 33rd Wisconsin Infantry. In this August 8th, 1863, 4 page letter in ink to his cousin, he gives us some nice details about the fall of that Confederate bastion. Here are the highlights:
Camp of the 33rd Wis. Vol. Vicksburg, Miss. Aug. 8th, 1863. Dear Cousin Ellen, I will now hasten to answer your welcome letter which I received yesterday.
I was on the hills in rear of the city when they stuck up the White flag. It was about 9 o'clock the fourth of July and it was a welcome sight to us poor soldiers for we had to be on duty about every other day.
The next day after the surrender we marched to Big Black River in search of Johnston. Then from here to Jackson where we found him and had some hard fighting, but our Regt. did not happen to get in the engagement. It was but a few days after we got here that Johnston evacuated the City.
We did not follow him up any farther for the weather was too warm to march. We started back for Vicksburg which place we reached on the 23rd of July. It was about a week after this that we moved inside of the Breast works. We are about a mile from the City and close to the outer line of Fortifications.
Some of the Fortifications are two miles from the city. I have been down in the city. It is beautifully located and I should judge a healthy place when it was kept clean, but there is considerable rubbish collected in the streets now though they are cleaning it up as fast as they can.
They had some of the best Artillery that is in the service and had a plenty of it. I don't see how the transports got by those batteries without getting sunk. They had a compete rake of them for 4 miles up and down.
If we had not got in the rear and cut off their communications, we would never have taken the place. It was reported that they had no ammunition. They had more than we had, but it was the provisions that run out first.
THEY WERE LIVING ON MULES WHEN WE TOOK POSSESSION. Our division is under marching orders now. I don't know how long we will stay here. I understand our orders are to go to Natchez and that we are to go as soon as we can get transportation.
I don't like this place and I won't be sorry when we leave, though I had rather go back to Memphis. Some of our boys have gone home on furlough. I want to go home next month if I can. I don't know whether I will get off or not.
So you think there will be war north as well as south. I hope not, and I don't think those Northern Copperheads will do much. If they do go to cutting up, they should be hung every man of them. HERE WE ARE FIGHTING TO SUSTAIN THE GOVERNMENT AND THEY ARE TRYING TO BEAT IT UP. They had better be scarce when us Soldiers come home or it will not be well for them.
I cannot write a very long letter this time. Write often. Give my Best Respects to all my friends, my poor Uncle and Aunt and Grand Papa and Ma and yourself. I remain as ever your Cousin, Jewett Likely. Direct to Co. 'A' 33rd Wis. Vol. 4th Division Vicksburg, Miss.
A well written letter in fine condition.

#L8-8-63WI – Price $295